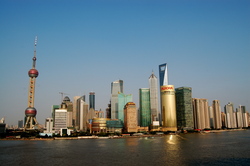 Luxury Concierge China is all about attention to detail, superior local knowledge, and most importantly, personal service.
(PRWEB) April 8, 2010
Luxury Concierge China, a travel consultancy based in Shanghai, will be offering a fully bespoke 8 day journey to Shanghai and the neighboring areas. The focus of this once in a lifetime experience will be the Shanghai Expo, with other possible highlights including a unique insight into Hangzhou's countryside and Buddhist traditions.
Luxury Concierge China, founded by Shanghai "old hands" Spencer M. Dodington and Jonathan L. Hasson, offers the discerning traveler or company the ultimate experience in Shanghai and beyond. From the very beginning, this bespoke travel planner works with its customers to design their ideal encounter with the real China.
Media attention to Shanghai's upcoming Expo has been unprecedented in the past year. No one however has a firm handle on what lies within the pavilions of China's official debutante ball of a world's fair… 90 + pavilions, water taxis, new underground metro lines, etc. The Shanghai Expo is looking to be an absolutely spectacular event, one certainly not to be missed.
Luxury Concierge China is proud of the city's growth, and its plans to redefine modern urban living through this event. To properly enjoy the Expo, it makes sense to see it in context within the city. Thus Luxury Concierge China has spaced manageable visits to the Expo site amongst visits to Shanghai's other best attractions. Excursions to neighboring cities such as Hangzhou, Suzhou & Zhujiajiao shall also be offered.
This 8 Days voyage may include a rich and diverse selection of activities, such as; a drive around town in a 1930's refurbished side car, a private tea ceremony conducted by a tea master, a blind foot massage reflexology treatment, the climbing of the world's longest arch bridge for breathtaking views of Shanghai, a private tasting of China finest wine, a Hangzhounese lunch in Longjing's plantations, a promenade on the Bund with senior city expert Spencer M. Dodington, a private tai chi lesson in one of the park's located in the Former French Concession, and much more.
8 Days will be running from May to November for groups of 2 to 8. All experiences will be fully tailor made, in order to provide the very best of what China has to offer, based on the client's requirements.
###