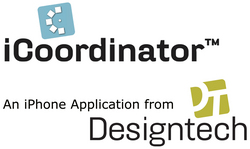 We are very happy to launch iCoordinator Lite, a free version of iCoordinator as this will enable users to try out the application without any additional cost and have insight into the features. - Patrik Svanerudh, CEO, Designtech
(PRWEB) April 7, 2010
Designtech, one of Europe's leading providers of web based project management and document management solutions announced the launch of their new free iPhone 3.0 application called iCoordinator Lite for effective time management and online collaboration.
Earlier this year the company has launched iCoordinator a paid iPhone application that can be used as a standalone iPhone application or in combination with iCoordinator.com portal in order to make the time entries and access the rooms on the portal to collaborate with the other team members. The free application allows the same functionalities with some restrictions on the number of projects the user can work with and report exporting functionalities. It allows the collaboration with iCoordinator.com portal, creation of new user accounts and access to the rooms on the portal. Both these applications are targeted towards consultants and users who are in need of tracking their time and effort for internal as well as external usage.
With iCoordinator Lite, users can make their time entries and track the efforts and cost associated with the time they have spent for their clients, projects and tasks. The application comes with a host of features that facilitate users to easily manage their time. With the key emphasis on tracking the efforts effectively and quickly, the application has both quick and detailed entry modes. In an effort to make the time tracking easier, it provides multiple timer options to automatically track the time. Keeping in mind that users working with diverse clients or projects and having different hourly rates, the application allows to have client specific rates. Users can have an overview of their efforts per month, week or day and filtered reports based on client, project or task as well as dates.
The combination of iCoordinator.com portal with iCoordinator Lite brings tremendous advantages as it allows the users to collaborate with each other and make their time entries through an iPhone or directly through the iCoordinator.com web interface. The room access in iCoordinator.com portal comes with a project planner to manage the project plans, a Document Management System where users can create, modify and share documents and other files and a Web Content Management System in order to easily manage the internal and external webpages. Users can access the room in iCoordinator.com for a trial period and experience the key features and benefits without incurring any cost. For business users who want to use iCoordinator.com room commercially with extended collaboration capabilities, the portal access is available for a credit based pricing structure.
On the occasion of the launch, Dr Patrik Svanerudh, CEO, Designtech commented "We are very happy to launch iCoordinator Lite, a free version of iCoordinator as this will enable users to try out the application without any additional cost and have insight into the features. The Lite version contains almost all the features of the paid version and allows users to connect to iCoordinator.com and create new rooms in the portal. These two solutions will definitely bring a lot of value for people who want to track their time and efforts and collaborate online with their colleagues."
Designtech' s other products are DocumentCoordinator®, ProjectCoordinator® and Virtual Incubator™. These solutions are developed over a decade and designed in close coordination with research institutes keeping in mind strong security and stable performance when it comes to web based collaborative solutions. Designtech' s client portfolio include Universities, Government organizations, consultants, software firms and many other organizations from different verticals.
About Designtech
Designtech is one of Europe's leading providers of project management and document management solutions for companies and organisations. Based out of Luleå, Sweden, Designtech's innovative web-based collaboration solutions are used in a wide variety of industries across the globe, from corporate organizations to governmental institutes. Designtech's solutions help managers in several countries to improve their document management, team collaboration and successful project execution. Designtech's product portfolio includes DocumentCoordinator®, ProjectCoordinator® and Virtual Incubator™. These web-based collaboration solutions can assist organisations to effectively manage their resources.For more information visit http://www.designtech.se
###