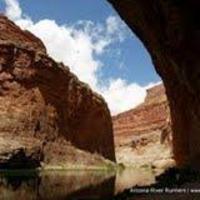 Experience the Grand Canyon from the bottom looking up with Arizona River Runners.
Phoenix, AZ (PRWEB) April 8, 2010
Planning a trip to the Grand Canyon this summer? Don't just look… Arizona River Runners would like to help people "experience" the Grand Canyon from a unique perspective – the bottom looking up. As an authorized concessioner, Arizona River Runners has been operating on the Colorado River since 1970, and is one of the well-respected river outfitters in the Grand Canyon today. They operate customized, well equipped rafts and provide all of the camping and rafting gear guests need for a safe yet exciting river experience. There is a wide variety of trips available from a 3-day Escape, to 6, 7 and 8-day motorized adventures and 6, 8, 13-day oar powered trips.
Arizona River Runners is very serious about protecting the environment of one of the most beautiful and unique places in the world. Their experienced and knowledgeable Grand Canyon river guides provide safe and enjoyable trips while educating visitors about the Colorado River corridor. Their passion is to preserve this rafting opportunity for future generations to enjoy.
Arizona River Runners trips allow guests to visit the Grand Canyon in a different way, experiencing the vacation adventure of a lifetime on a Colorado River rafting trip. Whitewater rafting through the Grand Canyon offers a unique view of one of the most popular natural wonders of the world. Passengers have a chance to experience the true spirit of the Canyon, gain a new perspective on life and connect with other like-minded people who appreciate this unique outdoor environment. Spending time in the Canyon gives individuals the chance to be kids again, to laugh and appreciate the small things in life, in an awe-inspiring setting.
This summer, "experience" the Canyon from the Colorado River, looking up. A river trip provides different views of incredible vistas, sightings of Big Horn Sheep and other wildlife, and camping under the stars. Every day on the river there are new sights and sounds to experience, every night camping in a different location with breathtaking views.
A Colorado River rafting trip will allow rafters to take time to really slow down, relax and unplug.... Many people plan to "do" the Grand Canyon...most are surprised by what the Grand Canyon does to them! For those interested in a summer holiday to remember, book a trip now. There are still some July and August dates available so don't miss the opportunity to experience the Grand Canyon from the bottom up on a whitewater rafting trip!
Call or email now – a holiday adventure of a lifetime awaits!
Arizona River Runners
P.O. Box 47788
Phoenix, AZ 85068
1-800-477-7238
602-867-4866
Fax: 602-867-2174
info(at)raftarizona(dot)com
http://www.raftarizona.com
Join us on Facebook, Twitter and Flickr
###