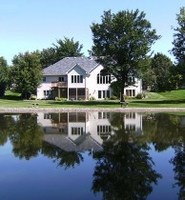 We developed our Extended Care kits to give our customers season long weed control in their ponds.
Osseo, MN (PRWEB) April 7, 2010
Lake Restoration, a lake and pond weed control and management company located in Rogers, MN, today introduced PondRestore Ultra Extended Care kits, cost-effective solutions for pond owners to kill and control irritating pond and lake weeds throughout the summer. The Extended Care kits, which are shipped in stages from early spring to late fall according to typical weed growth patterns, are an upgrade to the popular PondRestore Ultra package introduced in 2008.
Every spring marks the return of pond weeds like Duckweed, a free-floating plant that covers the surface of ponds and leads to oxygen depletion and photosynthesis interference. Once duckweed has infested a pond it will quickly degrade to a swamp. With PondRestore Ultra Extended Care, pond owners can easily kill duckweed and ensure that their pond will look great all season long without dreading the return of the Swamp Thing.
"Typically, people will order PondRestore Ultra early in the year and it will clean up their pond and leave it looking great, but the weeds grow back in a few months," says Kevin Kretsch, president of Lake Restoration. "We developed our Extended Care kits to give our customers season long weed control in their ponds."
You can purchase your Extended Care kit by first purchasing PondRestore Ultra, then upgrading to an Extended Care kit based on your pond acreage. From late Spring through early Fall, Lake Restoration will send packages related to the aquatic nuisances of the season, allowing customers to treat their ponds with the right products at the right time.
About Lake Restoration
Lake Restoration has been making lakes and ponds safe and clear for over 32 years. Thousands of homeowners and cabin owners use our products to control aquatic weeds each year. These products may be purchased through our weed control catalog, retail outlet, and website at http://www.lakerestoration.com.
# # #