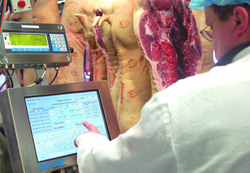 This industrial weighing project has been extremely successful for us and we are keen to work with other partners on a similar basis.
(PRWEB) April 8, 2010
Industrial weighing experts at Flintec have worked with Noax Technologies to create new waterproof touchscreen computers for use in harsh and wet working environments.
Load cell and force measurement specialist Flintec was brought in to add weighing capabilities to Noax's rugged industrial PCs.
The computers are designed to survive and function in extreme production environments where use of normal computers is impossible.
Typical applications are wet environments such as slaughterhouses, chemical or pharmaceutical plants where equipment needs to be washed down regularly during and after use.
Instead of keyboards, each PC uses watertight and extremely durable touchscreen keypads to prevent water ingress during frequent and systematic wash downs.
The industrial weighing computers are housed in robust shockproof stainless steel or aluminium enclosures sealed to the IP67 and NEMA 4 protection standards.
Flintec's team played an integral design role in the project, developing the application-critical electronics and weighing software at the heart of the new machines.
Its technology has eliminated the need for weighing indicators – instead the PC takes on that role.
Normally, a weighing scale would be connected to a weighing indicator which would then be connected to a PC. Flintec's technology has enabled Noax to link the weighing scales directly to the PCs.
Flintec Managing Director David Weeks said: "This is an example of embedded electronics. We are designing solutions which are an integral part of the equipment, rather than peripheral accessories.
"This project has been extremely successful for us and we are keen to work with other partners on a similar basis."
Experts at Flintec are increasingly being brought into projects at early stages, moving the weighing solution to the heart of the design, shortening time to market and reducing overall costs.
In the Noax project, Flintec provided the general load cell knowledge, electronics and software to create the weighing 'brain' of the new generation industrial PCs.
Flintec's involvement in the industrial weighing computers project was driven by the company's German team at Meckesheim near Heidelberg. They collaborated with the Noax PC designers at Ebersberg near Munich.
The two companies have joined forces to target new and existing markets with this innovative approach to industrial weighing in harsh environments.
Flintec's range of load cells and force measurement products includes:

Electronics – junction boxes, analogue amplifiers, digitising units, weighing indicators, remote displays, measuring instruments
Force measurement sensors – general purpose, fatigue rated, precision series, metrology grade, tulip transducers, shear pins, extensometer
Customised solutions – bespoke load cells and other solutions designed to cope with the most challenging applications.
For more information about industrial weighing solutions from Flintec, please contact David Weeks, +44 (0)2920 797959, http://www.flintec.com.
Words: 448
Information for Editors:
Flintec UK Ltd
Unit G6, Capital Point
Capital Point Business Park
Wentloog Avenue
Cardiff, CF3 2PY
Tel. +44 (0)2920 797959
Fax +44 (0)2920 797939
Flintec is one of the world's largest manufacturers of precision load cells and strain gage electronics – innovating a diverse range of force measurement solutions for customers who demand optimum accuracy, quality and customer service.
Founded in Sweden, the company has focused upon the design and manufacture of strain gages, load cells, measurement electronics and software for a diverse industry base from weighing machinery to new markets in the medical device, industrial and agricultural machinery and process automation sectors.
Flintec is part of the Swedish Indutrade Group (http://www.indutrade.se) listed on the OMX Nordic Exchange Stockholm. Indutrade comprises 100 subsidiaries with 3,000 employees and an annual revenue of $1 billion.
Our teams have always actively sought out the most difficult load cell weighing and force measurement challenges. Flintec innovates solutions for applications that rival firms either ignored or tackled badly.
In recent years, Flintec has expanded with:
two hi-tech major manufacturing facilities in Sri Lanka (at Katunayake and Koggola)
sales, distribution and customer support facilities in the USA, Brazil, Sweden, Germany, the UK, France, Italy, Sri Lanka, China and India
1,000 highly-trained employees committed to developing innovating measurement solutions, maximum accuracy and rapid delivery.
Major sectors served include medical device manufacturing, process weighing, weighing machinery, industrial and agricultural vehicles, test & measurement plus process automation & control.
###