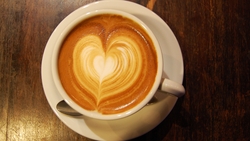 We're thrilled to launch these coffee clubs. It's a great day for Zoka
Seattle, WA (PRWEB) April 7, 2010
To satisfy the cravings of coffee lovers everywhere, Zoka Coffee Roaster & Tea Company released three new coffee clubs. In hopes of ending their customers' dread of waking up to empty cabinets and spending too much on impulse lattes, the company created Endless Blends, Roaster's Reserve and Artisan's Elite. Each coffee club delivers two 12 oz. bags of Zoka beans per month and monthly dues range from $21 to $35, shipping included. All club members enjoy perks, discounts, and sneak peeks at premiering coffees and, for a limited time, new members will be welcomed with a free chemex, filters, and two mugs.
"We created three coffee clubs instead of one to offer our customers something truly tailored to their needs," says Zoka Founder and President, Jeff Babcock. According to Babcock, not every coffee devotee was created equal. "Although all coffee lovers share a similar desire to taste great coffee, they're not all the same people. Some prefer blends and consistency; others want a different roast each month. And then there are more serious drinkers, who drink nothing but the best," Babcock relays. Rather than trying to appease the coffee collective, Zoka created three clubs based on these specific coffee drinkers– a move that keeps Zoka competitive with larger, mass-production coffee companies.
For $21 to $23 per month, anyone can become a member of Endless Blends. Members choose their favorite Zoka blend and two bags of that blend will be delivered on a monthly basis. "Endless Blends is ideal for those who want their favorite blend at their door without having to place individual orders, or buy a sub-par brand from a grocery store because they're in a rush," says Babcock. "It's an exceptional value when you consider that the average American drinks over three cups a day," he adds.
Touted as the club for coffee adventurers, Roaster's Reserve delivers two bags of a different Zoka roast to club member's doors each month for $25, billed monthly. "Our coffee of the month club is perfect for those who crave variety or anyone seeking a gift for coffee drinkers," says Babcock. "It's a sweet surprise each month," he says.
Patrons of the Artisan's Elite club are served only the most delectable, sought-after Zoka coffees, including: Cup of Excellence, Cup of Gold, artisan and/or single-origin coffees –it's a coffee club that caters to the bean bon vivant. "Artisan's Elite is $35 a month for two 12 oz. bags. When you consider that some of our Cup of Excellence coffees retail at $25 per bag, it's a steal," said Babcock.
The three new coffee clubs are exciting additions to the small-batch roaster's arsenal. Shipping is included, and delivery is ongoing until the customer says no more. "We're thrilled to launch these coffee clubs. It's a great day for Zoka," concludes Babcock.
Learn more about the three new coffee clubs.
About Zoka Coffee and Tea Company:
Nestled in the heart of coffee country - Seattle, WA - Zoka Coffee Roaster and Tea Company opened in 1996. Zoka is a small-batch coffee roaster with a keen attention to detail – every shot, every roast, every organic coffee strives for first-day freshness. With three coffee shops and an online retail store, Zoka continues to break new ground in the coffee community.
# # #