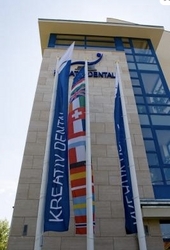 Visit Us in 3D
Astoria, NY (PRWEB) April 21, 2010
Kreativ Dental Clinic (KDC), a leading dental facility in Budapest, Hungary, announces the launch of its 3D virtual tour. Patients looking for affordable dental implant services and dental care can now take an initial visit of the American-owned company's European offices from the comfort of their own homes.
"At KDC, patients receive American-quality dental care at savings up to 80 percent," says Akos Szilagyi, lead operator of Kreativ Dental Clinic's New York City office. "The new 3D virtual tour allows those looking for an affordable dentist and low-cost dental treatment the opportunity to take a first-hand look at what sets Kreativ Dental Clinic apart in terms of both the service and value we provide."
The new 3D virtual tour allows visitors to KreativDentalClinic.com to view 360-degree views of the clinic's environment and workspaces. Included are virtual tours of the reception and waiting area, main lobby and many laboratory departments. The 3D virtual tours also show the clinic's dentists in action. In addition to the 3D tour, the clinic is open to the general public and may be visited at any time.
Established in 1998, KDC is a state-of-the-art dental clinic and one of the leading facilities in Europe. An ISO 9002 certified facility, KDC specializes in dental tourism for patients from the UK, Ireland, Denmark, Norway, Switzerland, Italy and the United States. KDC's credentialed dental care helps patients save significant amounts of money. Prices at KDC International are 60 to 80 percent lower than in the United States, meaning American patients can save thousands of dollars on extensive dental care, even after factoring in travel costs. KDC representatives in each of the aforementioned countries assist new and returning clients. Due to their efforts and expertise, the facility has treated more than 30,000 patients with an outstanding satisfaction rate.
"Kreativ Dental Clinic offers clients affordable dentist treatment at a credentialed facility and at a significant reduction of out-of-pocket costs. In addition, it combines dental service with an exciting vacation. Clients will save money and have an amazing travel experience without having to compromise the quality of their dental care," Szilagyi says.
KDC is furnished with the latest German and Japanese dental technology. The clinic provides a wide variety of dental services, including restorative dentistry, cosmetic dentistry and preventive dentistry. Other services offered include affordable dental implants (Braenemark, Straumann and Oraltronics) crown and bridge work, full porcelain crowns, laminate (veneer) dentures, combination work, fillings, root canals, bone augmentation, sinus-lifting, gum surgery, laser treatment, cyst removal and more.
The quality of services at KDC is equivalent to that of top dentists in New York City, Boston and Chicago. However, the cost of a top quality custom-made crown in these cities may amount to $1,200 or $2,000. At KDC, a crown of equal quality costs only $350, which is made possible by Hungary's lower overheads and salaries.
KDC prides itself on the in-house development of its own professional know-how and houses a training center for the professional development of its dentists and dental technicians. Master Ceramist John Rendetzky, director of the clinic's in-house laboratory, is internationally certified by VITA, the world's leading German dental porcelain producer. The clinic's eight general practitioners and dentists are fluent in English. Clinic staff includes two oral surgeons, an endodontist, a periodontist, a radiologist for the evaluation of Cat-Scan images and 18 laboratory technicians.
KDC provides its clients round-trip customer service. In addition to scheduling dental appointments, KDC staff helps make travel arrangements and facilitates sight-seeing city-tours and participation in diverse cultural activities. All KDC dental patients receive free airport limousine service and a complimentary pass to public transportation for the duration of their stay. Patients also receive a substantial discount from one of two adjacent partner hotels as well as a coupon to enjoy Kreativ Sky Club.
The owner and founder of KDC is Attila Bela Knott, who developed the initial idea for dental tourism in Europe. He possesses a strong media presence in English, Irish, Danish, Norwegian and Dutch media and has even been quoted in the New York Times.
KDC's policy provides significant guarantees. On fixed restoration, the clinic's warranty is extended up to five years. In an unlikely event of the failure of the laboratory's product, KDC is committed to reimburse the cost of transportation and hotel accommodation, and offers remedial work at no cost.
KDC's U.S. representative, Akos Szilagyi is responsible for the operations of the New York City office. For more information about Kreativ Dental Clinic or for more information about its affordable dental implant, restorative dentistry or other dentist abroad services, visit http://www.kreativdentalclinic.com.
Contact:
Akos Szilagyi
1-888-Kreativ(573-2848)
# # #