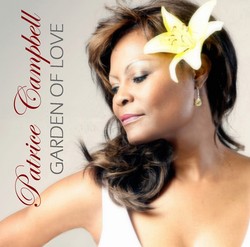 Patrice Campbell is one to watch for Best New Artist for 2010.
(PRWEB) April 6, 2010
An accomplished vocalist, songwriter, arranger and producer out of the Nation's Capital, Washington, D.C. "Garden of Love" marks Patrice Campbell's debut as a solo recording artist. Her music style combines R&B, Soul, Pop and Smooth Jazz. Patrice has a vocal range and a sultry sound that will leave you breathless. The lyrics are sure to hit home to both women and men. The songs come alive as the sexy songstress exudes deep passion in her portrayal of each song. This CD is appropriately titled as it represents true emotions of love. It gives her point of view of the many stages of love between two people. It's a reminder of songs back in the day when lovers had that favorite album they played over and over when in love. This CD is a welcome and refreshing change to today's music.
Patrice's talent as an artist, song writer and producer is evident in this body of work. Since pre-releasing the title song "Garden of Love" a month ago, she has received rave reviews and an over whelming demand from her fans wanting to hear more. Over the years she has developed a fan base and following locally and internationally. There is buzz that Patrice Campbell is Grammy worthy for "Best New Artist of 2010". Watch and see how her career unfolds and be part of an amazing ride to the top. For more more information visit PatriceCampbell.com or send an e-mail to patricecampbell(at)verizon(dot)net.
###