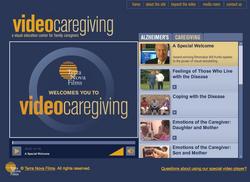 There's nothing like this out there...invaluable to somebody caring for another in the home. Darby Morhardt, Northwestern University, Feinberg School of Medicine.
Chicago, IL (PRWEB) April 8, 2010
http://www.videocaregiving.org is the first and the only website of its kind— dedicated exclusively to offering streaming videos as a resource to help the nation's estimated 50 million family caregivers— family members, friends, even neighbors-- all of whom provide some form of unpaid, in-home continuing care for a loved one. Among the goals of the site are not only to help the caregivers better understand and deal with their situation, but also to remind—and actually SHOW—them they are neither isolated nor alone in their struggle.
Facts about caregiving in the U.S.:
There are approximately 50 million family caregivers in America providing over 80% of all of the long term care in this country. And the estimated value of family caregivers "free" caregiving services was more than $375 BILLION dollars in 2007—more than the total Medicaid spending in 2007 ($311 million) and as much as the sales of the world's largest companies, Wal-Mart ($379 billion, the most of any company) and ExxonMobil ($359 million). These caregivers are largely invisible, part of a process that helps to prop up our nation's healthcare system and that turns the architecture of the family upside down, turning children into parents and parents into children.
Facts about the site:
The videos on the website are original footage, documentary in style, focusing on real stories of real people in real circumstances. All are drawn from films either produced or distributed by Terra Nova Films, a company that has for nearly 30 years been a leader in the use of video in the training and development of tens of thousands of professional caregivers, ranging from doctors and nurses to college professors and social workers, even lawyers and police. An advisory team of representatives from the leading caregiving organizations and a production team of experts on caregiving and Alzheimer's disease came together to create this resource, which offers specific videos on Alzheimer's disease and general caregiving.
The 5-8 minute videos are simple, clear and to the point. Every video can be played by itself or alongside a text portion that summarizes the piece and offers information that takes the user "beyond the video." The Web site is a place where "seeing is not only believing…but also caring." Long-time journalist and award-winning documentary producer Bill Kurtis speaks to the storytelling power of the visual imagery on the site in his introduction. Users call the site groundbreaking for its use of video -- going beyond the statistics and numbers -- to show the human struggle taking place in millions of households throughout this country.
"Having real people made the difference. You can read all you want and it doesn't compare to real people talking. My favorite is the one of the mother and daughter and the emotional roller coaster because that is my story. I understand her saying her life is not her own. I related to the anger. The one about the husband and wife team broke my heart. It is sad. He is a wonderful man …." Terry in CT, caring for her mother with dementia.
"The videos reinforced that I am normal. The video of the man that had to put his wife in the nursing home validated my feelings when I had to do the same thing. You feel like you are giving up, but you are really not because it is what you have to do for both of you …." Ann in IL, caring for her parents.
The launch is only the first phase of a website that will include additional videos on other diseases like Multiple Sclerosis and Parkinson's and include a "Storytelling Place" where visitors can offer their own visual treatments of their caregiving experiences, either with video or through still photos. Work has also begun on the development of a Spanish language version of the site. Research indicates that of the estimated 50 million caregivers in the country, 8 million are Hispanic. And, a third of these Hispanic households have at least one caregiver, many of those dealing with somebody who has Alzheimer's. Over 40 percent of these caregivers said they'd been forced into making major changes in their lives, from cutting back on their working hours, to changing jobs to taking a leave of absence or stopping work altogether.
Development of http://www. videocaregiving.org has been underwritten in part by the Retirement Research Foundation, the nation's largest private foundation devoted solely to serving the needs of older Americans and enhancing their quality of life, and the Chicago Community Trust.
VideoCaregiving.org: Quick Facts
A Visual Education Center for Family Caregivers

Videocaregiving.org is a first-of-its-kind, video-based Web site that includes all-original, documentary material showing real people caring for loved ones in real life scenarios.
This visual education center for family caregivers is presented online by Chicago-based Terra Nova Films. Terra Nova has the expertise to present this resource, with nearly 30 years of storytelling about later life, aging and healthcare through documentary-style films. Terra Nova is the only company in the U.S. focusing on these issues with video.
Who is the intended audience?
The Web site is a FREE resource to the estimated 50 million in-home caregivers in the U.S.
The site features exclusive documentary-style videos, created by a team of award-winning film producers, which follow real- life people as real- life stories and issues unfold. The videos are the primary messenger on the site, but informative tips and educational text also is offered.
Why is a resource such as this Web site necessary?
In households throughout the country --and the world -- family members, friends, even neighbors -- provide some form of unpaid continuing care in the home. The mission of this site is to provide these caregivers tools to better understand and deal with their situation, and let them know that they are neither isolated nor alone in their struggle.
What makes this site unique among caregiving Web sites?
The documentary style footage can be an important and helpful resource for everyday caregivers, The web site and all of its content is presented by Terra Nova Films, which for nearly 30 years has created and distributed videos to train doctors, nurses and professional caregivers. The advisory council for this project includes representatives from all the major caregiving associations in the country.
# # #