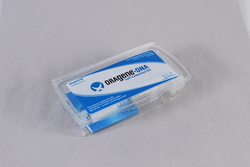 "We are thrilled that Oragene•DNA has been recognized for its design excellence. We have already seen the product's success and widespread adoption in research and diagnostics due to its high quality and ease of use. We expect Oragene•DNA will continue to
Ottawa, ON (PRWEB) April 8, 2010
DNA Genotek, a leading provider of products for biological sample collection, stabilization and preparation, today announced that it has received a 2010 Medical Design Excellence Award for its Oragene•DNA Self-Collection Kit.
Oragene•DNA is an all-in-one system for the collection, stabilization, transportation and purification of DNA from saliva. The product has been rapidly gaining acceptance as the preferred method for non-invasive DNA collection by research institutions and commercial organizations around the world. Oragene•DNA enables collection of saliva samples from large numbers of individuals while providing high quality DNA thus facilitating research and genetic analysis programs.
Ian Curry, president and CEO of DNA Genotek, Inc. commented, "We are thrilled that Oragene•DNA has been recognized for its design excellence. We have already seen the product's success and widespread adoption in research and diagnostics due to its high quality and ease of use. We expect Oragene•DNA will continue to be the new gold standard method of collecting and managing DNA for a wide range of health improvement applications."
The Medical Design Excellence Awards competition is organized and presented by Canon Communications LLC (Los Angeles) and is the only awards program that exclusively recognizes contributions and advances in the design of medical products. Entries are evaluated on the basis of their design and engineering features, including innovative use of materials, user-related functions that improve healthcare delivery and change traditional medical attitudes or practices, features that provide enhanced benefits to the patient, and the ability of the product development team to overcome design and engineering challenges so that the product meets its clinical objectives.
A comprehensive review of the entries was performed by an impartial, multidisciplinary panel of third-party jurors with expertise in biomedical engineering, human factors, industrial design, medicine and diagnostics.
For more information on Oragene•DNA, please visit http://www.dnagenotek.com.
About DNA Genotek:
DNA Genotek focuses on providing high-quality biological sample collection products. The company's lead product, the Oragene•DNA Self-Collection Kit, is the easiest way to collect and preserve large amounts of DNA from saliva. Oragene•DNA's reliability and ease-of-use have resulted in rapid adoption at top-tier health research institutions globally, including Harvard, Stanford, Cambridge, and Johns Hopkins. DNA Genotek markets its products worldwide and has established a global customer base in over 85 countries. For more information about DNA Genotek, visit http://www.dnagenotek.com
® Oragene is a registered trademark of DNA Genotek, Inc.
###