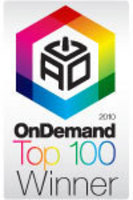 When we launched Bullhorn back in 1999, we introduced software-as-a-service into an industry that was completely unfamiliar with staffing software being delivered this way
Boston, MA (PRWEB) April 7, 2010
Bullhorn, the global leader in On Demand front office staffing and recruiting software, today announced that it has been chosen by AlwaysOn as one of the OnDemand Top 100 winners. Inclusion in the OnDemand 100 signifies leadership amongst its peers and game-changing approaches and technologies that are likely to disrupt existing markets and entrenched players. Bullhorn was specially selected by the AlwaysOn editorial team and industry experts spanning the globe based on a set of five criteria: innovation, market potential, commercialization, stakeholder value, and media buzz.
Bullhorn and the OnDemand Top 100 companies will be honored at AlwaysOn's OnDemand event on April 19th, 2010, at Hewlett-Packard's Worldwide Headquarters in Palo Alto, CA.
This two-and-a-half-day executive event features CEO presentations and high-level debates on how the Internet is disrupting how companies—from small businesses to large enterprises—create, store, distribute, analyze, and take advantage of their mission-critical data.
"As the digital information created by businesses continues to explode at astronomical rates, the need to store, manage, analyze, and share this information is becoming extremely challenging," said Tony Perkins, founder and editor of AlwaysOn. "We congratulate this year's OnDemand 100 for providing the technology platforms and services needed to manage and leverage this new era of information complexity and overload."
The OnDemand 100 winners were selected from among hundreds of other technology companies nominated by investors, bankers, journalists, and industry insiders. The AlwaysOn editorial team conducted a rigorous three-month selection process to finalize the 2010 list.
As the global On Demand, integrated front office leader for the staffing and recruiting industry, Bullhorn serves over 1500 firms in more than 30 countries worldwide. In the last three years, the company achieved spectacular growth of 291%, making it the only staffing and recruiting software company to hold prominent rankings among Inc. 5000, Deloitte's Technology Fast 500 and the Software 500. Through ongoing innovation, Bullhorn continues to shake up the staffing and recruiting space with cutting-edge On Demand developments, including its recent debut of the Bullhorn Marketplace, the industry's first destination for staffing and recruiting software applications and services.
A full list of all the OnDemand Top 100 winners can be found on the AlwaysOn website at: http://alwayson.goingon.com/permalink/post/34759
"Bullhorn is honored to be recognized by such highly regarded industry experts and alongside such prominent technology leaders," said Art Papas, Bullhorn's Founder and CEO. "When we launched Bullhorn back in 1999, we introduced software-as-a-service into an industry that was completely unfamiliar with staffing software being delivered this way. This award demonstrates how far On Demand enterprise technology has come, and how essential it's become across all trades. As the SaaS pioneer of our industry, the Bullhorn team looks forward to continuing to raise the bar with game-changing staffing and recruiting innovations, so that we can continue to provide our customers with unparalleled competitive advantages."
About Bullhorn
Bullhorn is the global leader in On Demand, front office staffing and recruiting software, providing the only completely integrated front office solution for staffing and recruiting firms. By enabling recruiting, sales and management to experience the power of working together with 360° visibility into every activity, from job order to placement, at anytime and from any place, Bullhorn customers achieve the highest placement rates in the industry. Delivered through software as a service, Bullhorn's applicant tracking software continually meets the evolving business needs of its customers. More than 1,500 firms and 15,000 users worldwide, including some of the largest global staffing firms, partner with Bullhorn to meet the employment demands of the global economy.
About AlwaysOn
AlwaysOn is the leading business media brand networking the Global Silicon Valley. AlwaysOn helped ignite the social media revolution in early 2003 when it launched the AlwaysOn network. In 2004, it became the first media brand to socially network its online readers and event attendees. AlwaysOn's preeminent executive event series includes the Summit at Stanford, OnMedia, OnHollywood, Venture Summit Mid-Atlantic, OnDemand, Venture Summit Silicon Valley, Venture Summit East, GoingGreen Silicon Valley, GoingGreen East, and GoingGreen Europe. The AlwaysOn network and live event series continue to lead the industry by empowering its readers, event participants, sponsors, and advertisers like no other media brand.
###