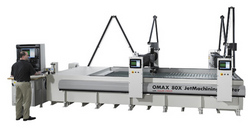 Kent, Washington (PRWEB) April 8, 2010
OMAX® Corporation has released its new Dual Bridge System, a configuration option that allows the inclusion of a second Y-bridge to boost efficiency and flexibility. The system can be added to any new or existing 60120, 80X or 120X OMAX JetMachining® Centers and is currently the only dual bridge traction drive system available in the waterjet industry.
With OMAX's Dual Bridge System, two Y-bridges work independently from each other, significantly increasing machine capacity. The bridges can be programmed to produce separate components or can work in tandem to cut one large part. The system also boosts utilization rates, as cutting can be performed while materials are loaded and unloaded from the machine.
To maximize user friendliness, the Dual Bridge System makes use of OMAX's Intelli-MAX® Premium software, which is already installed on all OMAX JetMachining Centers. Operators can easily switch between viewing the programs for either bridge.
All existing OMAX accessories are fully compatible with the addition of a second Y-bridge. To achieve the fastest possible cutting configuration, the system can also be configured with multiple nozzles and pumps on one machine.
OMAX believes in manufacturing the best machines and accessories possible with the best software available, and works to continually develop cutting-edge technology and innovative software for its customers. As a result, each OMAX product comes with the OMAX Technology Guarantee, which provides software upgrades for all existing customers at no additional charge.
About OMAX
Headquartered in Kent, Washington, OMAX Corporation is the world leader in abrasivejet machining. Each OMAX JetMachining® system is powered by the company's innovative control software, bringing affordable abrasivejet technology to an expanding and diverse group of industries. For more information on OMAX products and accessories, contact Sandra McLain at 800.838.0343 or visit http://www.omax.com.
###