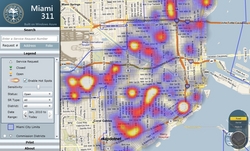 Miami 311 is just one example of how enterprise applications can be deployed to an off-site cloud computing environment. By moving applications to Azure, cities, counties and state government can eliminate costly software licensing and ongoing hardware infrastructure costs
Tallahassee, FL (Vocus) April 7, 2010
ISC is pleased to announce that Miami 311, a government transparency solution built with MapDotNet UX, has won first place in the Microsoft Windows US Public Sector Azure Contest. The application was selected from a field of thirteen entries by Internet voters and a panel within Microsoft.
Miami 311 is an online application supported by the Microsoft Azure cloud platform that allows Miami residents to report, monitor and analyze all non-emergency events that occur in the metropolitan area. If a citizen needs to report a non-emergency situation such as a pothole, street light outage or missed trash pickup, he must first call 311 to report the issue. Once the issue is reported, the citizen can login to the Miami 311 online tool to track the progress of the issue reported and also view the progress of other city-wide projects in the area. The intent of the site is to increase citizen access to city-wide information.
"MapDotNet UX at version 8.0 is 100% managed .net code, which makes the entire server product and its functionality is deployable to Azure, which runs in a 64-bit virtualized environment. This enables map tile rendering (using a high-speed WPF-based map renderer), spatial querying and spatial data editing all in Azure. This is much more than pushpins in the cloud," said Brian Hearn, MapDotNet Lead Architect.
Miami 311, utilizes all aspects MapDotNet UX product including the Silverlight map control, web services and the desktop application, MapDotNet UX Studio. The vast amount of 311 service request data is handled through the MapDotNet UX Feature Web Service, which gives the application robust data analysis capabilities on top of a Bing Maps for Enterprise base map. The MapDotNet UX Map Service is used to render map tile overlays of the supporting data like parcels, zones, and political boundaries as an Open Geospatial Consortium Web Map Service (WMS) to a MapDotNet UX Silverlight map control for visualization. The City of Miami staff uses the MapDotNet UX Studio desktop product to publish and maintain the spatial data in Azure.
"Miami 311 is just one example of how enterprise applications can be deployed to an off-site cloud computing environment. By moving applications to Azure, cities, counties and state government can eliminate costly software licensing and ongoing hardware infrastructure costs," says Mark Alexander, ISC Managing Partner focused on Azure migration efforts.
Visit the live Miami 311 site here, http://miami311.cloudapp.net (requires Microsoft Silverlight 3.0). For full the Windows Azure Contest results, please visit the official website, http://www.microsoft.com/industry/government/azurecontest/default.aspx.
For more information on the MapDotNet products and services, please visit: http://www.mapdotnet.com
# # #