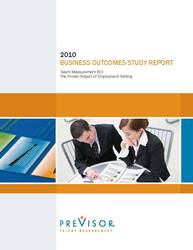 Business outcome studies are one of the best, if not the best, ways to translate the efficiencies gained from talent management processes into actual profits for a company.
Atlanta, GA (PRWEB) April 8, 2010
PreVisor, the global leader in employment assessments and talent measurement solutions that connect employment decisions to business results, released its 4th annual report today summarizing 37 business outcomes studies. Each study is completed in collaboration with clients to demonstrate the proven impact of employment testing for hiring or placement.
The 2010 Business Outcomes Study Report includes findings from studies done with client organizations both in the U.S. and globally. These studies represent a wide range of industries, including financial and business services, healthcare, hospitality, retail, and telecommunications; and focus on a multitude of job types – hourly, professional, managerial, sales, and customer service.
"We are once again delighted to have seen the dramatic impact that sound talent measurement programs have had for our clients," said Caroline Paxman, Chief Customer Officer, PreVisor. "Although the positive return from assessment programs has been proven throughout the years, the magnitude of the ROI continues to escalate with the increase in program sophistication. PreVisor is dedicated to a partnership with our customers that continues to push the envelope in driving the direct business results most correlated with their success."
Overall, the 2010 report found that 81% of the studies conducted had a favorable or very favorable outcome. This means that the assessment solution had a strong and measurable impact on most or all of the firms' performance metrics. None of the studies resulted in an unfavorable outcome. Some highlights from the findings:

Sales increased $45 million while shrinkage was reduced by $8.3 million at one eyewear retailer
Collections revenue increased more than $170 million annually in the credit card division of a financial services organization
Business worth $55 million a year was saved by high-scoring telecom customer retention agents
High-scoring customer service agents added 17 more productive work days per year per employee and bumped the contact center quality rating by 34%
Turnover was reduced by 46%, saving nearly $2 million for a healthcare organization
Advance Auto Parts, CenturyLink, Luxottica, MetLife, Sprint, Time Warner Cable, and Xerox are among the more than 130 organizations who have participated in business outcome studies since 2007.
"Business outcome studies are one of the best, if not the best, ways to translate the efficiencies gained from talent management processes into actual profits for a company. For example, our study helped us to determine the financial impact of a new hiring process resulting from reduced turnover and increased sales," stated Michael Blair, Manager, Strategic Staffing Leader, CenturyLink. "Using the results of the business outcome study, we were able to calculate a profit gain of roughly $24 million on an investment of just over $100,000."
The 2010 report includes a future trends section which outlines the following new and emerging talent measurement solutions: In response to economic events in 2009, a large majority of companies have placed an increased focus on the quality of hire metric. Secondly, employment testing is moving beyond pre-hire screening and talent acquisition – into current employee base assessment for placement and development. Another trend to note is the increased use of "whole-person assessments", which employ a variety of different assessment methods to target job candidate characteristics most relevant to business outcomes. Trend number four shows that small to mid-size businesses are looking for self-service platforms that provide a cost effective means for them to compete for talent with large organizations. Lastly, assessments are increasingly sophisticated – utilizing technology resources like computer adaptive testing (CAT), online multi-media simulations, and job/culture specific tests.
In conclusion, the report focuses on where talent measurement is headed, describing more specifics of innovation through technology.
"We have been fortunate to be able to partner with best-in-class organizations who not only understand the inherent value of a robust talent measurement program, but who have also been able to realize significant positive impact," stated Noel Sitzmann, PreVisor CEO. "We look forward to the continued opportunity to serve our customers and enable their success by providing talent measurement instruments that will drive the greatest return on their investment."
For more information about PreVisor and its Business Outcome Study service, visit: http://previsor.com/products/consulting/validation
Request a copy of the 2010 Business Outcomes Study Report.
About PreVisor
PreVisor, the leading global provider of on demand employment assessments and talent measurement solutions, helps clients connect employment decisions to business results. Following the rigorous standards of industrial-organizational psychology, PreVisor's assessment content accurately predicts on-the-job performance and supports fair hiring practices. PreVisor's solutions help streamline hiring, reduce recruiting and training costs, and improve corporate performance for clients worldwide, including more than 100 of the Fortune 500. http://www.previsor.com
Media contact:
Donna Lehman
MarketUP
770-565-7275
# # #