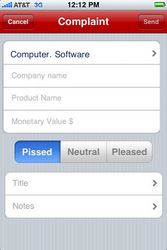 With access to a mobile device like the iPhone or iPad they can use our consumer complaints submission form right away, making sure all details are posted accurately for the benefit of other consumers. It also allows users to search consumer complaints
New York, NY (PRWEB) April 7, 2010
U.S. consumer advocacy and customer complaints Web site, PissedConsumer.com, makes consumer complaints mobile with the launch of a new free app available for the iPhone, iPad, and iPod Touch. Users can download the app through the iTunes store and use it to file and search consumer complaints on-the-go.
"The new iPhone app is designed to let consumers file complaints when issues arise before they have a chance to forget the details," said Joanna Simpson of PissedConsumer.com. "With access to a mobile device like the iPhone or iPad they can use our consumer complaints submission form right away, making sure all details are posted accurately for the benefit of other consumers. It also allows users to search consumer complaints while they're away from home."
The idea is to put user-friendly tools and information in the hands of average consumers so they can report and access information about companies they deal with. For example, someone could search for consumer complaints about several area restaurants before deciding where to eat. Then they can report their own consumer complaint, or praise of the restaurant they chose, to the site before they even leave.
"The app was developed to simplify the process of reporting and using data available on PissedConsumer.com from a mobile platform," said Simpson. "It's about giving consumers up-to-the-minute information about the places where they eat, shop or conduct other business. Our hope is that people will report not only more, but more accurate, consumer reviews when they can post on-the-spot instead of waiting to get in front of a computer."
Consumers can find out more about the new Pissed Consumer app for the iPhone and iPad by visting iTunes Website or they can download the free app through the iTunes store.
About PissedConsumer.com
PissedConsumer.com is a premier consumer advocacy group, featuring consumer reviews and complaints in a social networking environment. The company uses online tools to publicize reviews and complaints filed by consumers on the Internet. In addition, the site offers a set of free tools necessary to bring the dispute to a fast and successful resolution, including a consumer complaint letter generator and collection of consumer tips and advice in the site's consumer advocacy section.
For more information about the Pissed Consumer service and new iPhone app, please visit PissedConsumer.com or contact Joanna Simpson at 262-674-6466.
###