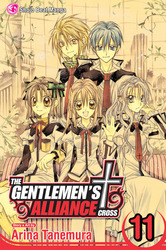 San Francisco, CA (Vocus) April 8, 2010
VIZ Media will bring on the conclusion of Arina Tanemura's acclaimed shojo drama THE GENTLEMEN'S ALLIANCE† with the release of Volume 11 today.
Haine goes to Shizumasa and Takanari's grandfather, the head of the Togu family, to ask him to release the twins from their fate. But he tells her that she must pass the same trial the twins went through for determining the rightful Togu heir. Haine agrees, but little does she know that a former friend is now out for her life!
Published under the Shojo Beat imprint, THE GENTLEMEN'S ALLIANCE† (rated 'T+' for Older Teens) has helped to define the shojo genre of manga, selling more than 2.5 million copies in Japan. Creator Arina Tanemura's beautiful flowing art and spunky female lead characters has brought her international adoration.
THE GENTLEMEN'S ALLIANCE† opens when, in return for a business loan of 50 million yen, the prestigious Kamiya family gives their daughter Haine away to the Otomiya family. Haine, now an Otomiya, is appointed to the student council of the exclusive Imperial Academy, a private school for the aristocracy. Even though Haine is of proper lineage to be on the council, she finds herself struggling to find her place among the many secrets of its elite members, especially those of the president, Shizumasa Togu, aka "the Emperor", who holds her heart.
Arina Tanemura began her manga career in 1996 with several short stories published in the shojo manga magazine Ribon. But she started to gain fame in 1997 with her series I•O•N (published by VIZ Media, rated 'T' For Teens), a high school romance with a supernatural twist. From 1998 to 2000, Tanemura worked on the popular series Kamikaze Kaito Jeanne, about a young girl who is the reincarnation of Joan of Arc, followed by TIME STRANGER KYOKO in 2000–2001 and FULL MOON in 2002 (both also published by VIZ Media, rated 'T' for Teens). Both Kamikaze Kaito Jeanne and FULL MOON were adapted into popular TV series.
About VIZ Media, LLC
Headquartered in San Francisco, CA, VIZ Media, LLC (VIZ Media), is one of the most comprehensive and innovative companies in the field of manga (graphic novel) publishing, animation and entertainment licensing of Japanese content. Owned by three of Japan's largest creators and licensors of manga and animation, Shueisha Inc., Shogakukan Inc., and Shogakukan-Shueisha Productions, Co., Ltd., VIZ Media is a leader in the publishing and distribution of Japanese manga for English speaking audiences in North America, the United Kingdom, Ireland, and South Africa and is a global ex-Asia licensor of Japanese manga and animation. The company offers an integrated product line including the popular monthly manga anthology SHONEN JUMP magazine, graphic novels, and DVDs, and develops, markets, licenses, and distributes animated entertainment for audiences and consumers of all ages. Contact VIZ Media at 295 Bay Street, San Francisco, CA 94133; Phone (415) 546-7073; Fax (415) 546-7086; and website at http://www.VIZ.com.
###