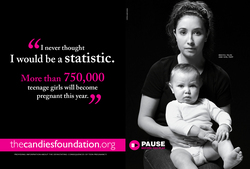 New York, NY (PRWEB) April 7, 2010
The Candie's Foundation announced today the release of a television and print Public Service Announcement ("PSA'") campaign featuring Bristol Palin for the prevention of teenage pregnancy.
Last year, The Candie's Foundation appointed Bristol Palin as an Ambassador. In the PSAs, Palin, who appears with her son Tripp, addresses the difficulties of being a teen mom. She discusses how her life has changed since having a baby and how many hardships she would have to face if not for her family and their support.
The PSAs will begin airing in May to coincide with National Teen Pregnancy Prevention Month.
Bristol Palin stated, "I believe that people need to start talking about the consequences of teen pregnancy. Being a single teen mom has affected every aspect of my life. I am providing for another person and doing everything for him. I am constantly juggling and it is extremely difficult. Teens need to understand the realities of being a teenage parent."
Neil Cole, Founder of The Candie's Foundation, commented, "The main goal of The Candie's Foundation is to educate teens about the devastating consequences of teenage pregnancy. Each year nearly 750,000 teens become pregnant, the numbers are staggering and it is a national epidemic. By drawing attention to the issue and starting a dialogue between teens and parents we can reduce this number and prevent teens from becoming a statistic."
The television PSA was produced by Serve Marketing, a non-profit ad agency, and shot by director Rob Fischer. The print PSA was shot by photographer Nino Munoz. Both Serve Marketing and Mr. Munoz donated their time and resources to produce the PSAs. The campaign was shot in West Hollywood, CA.
Online/print/TV media:
Behind-the-Scenes from the PSA shoot, Bristol Palin and her baby Tripp, Soundbites, TV and Print PSAs and press information available to preview, download and share at http://www.magicbulletmedia.com/MNR/TheCandiesFoundation.
For additional information on The Candie's Foundation, please visit http://www.candiesfoundation.org.
Satellite Feed of B-Roll Package Available
Wednesday, April 7, 2010
Feed 1: 10:15 AM – 10:30 AM, ET
Feed 2: 1:15 PM – 1:30 PM, ET
Coordinates: Galaxy 28C, Transponder 15, C-Band; DL Freq: 4000 (V)
Trouble#: (212) 722-3195; Audio 6.2/6.8
###