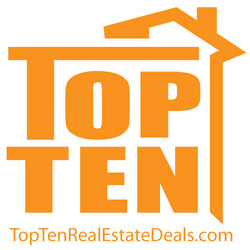 (Vocus) April 8, 2010
Every year the Top 10 Team at TopTenRealEstateDeals.com ranks the Top 10 Most Luxurious Golf Homes that are (at the time of publication) available for sale within US golf communities.
These homes are judged on basic criteria, such as, but not limited to: vicinity to golf course, stature of golf course, total 'wow' factor, luxury amenities, interior design, sq. footage, geographical location, while a heavier 'weighted' emphasis was placed on the modern aspects of the design.
"Although the modern aspects of the home were given significant weight in our rankings calculations, sometimes you just can't ignore the sheer 'wow factor' of a home perched above the 18th tee box in Hawaii with lush tropical landscaping, a 58 acre Neo-Classical Georgia Southern Estate, or a stunning 20,000 square feet home nestled in the Arizona hillside," states Jason Wakefield the Marketing Director for TopTenRealEstateDeals.com.
Kicking off the list is a returning home from the '09 list, PGA Golfer Jim Furyk's Hawaii residence.
Last year's number #1 golf home made the list but has been driven from the top spot, making way for a new king of the green.
Newcomers to the list include a private, French-inspired estate in Newport Coast, California located on the Pelican Golf Course, an exquisite Teton Pines Resort home located on the 18th fairway, and a glass contemporary Hilton Head home with 270 panoramic ocean views on the 15th green of the Ocean Golf Course.
The full list can be viewed at:
http://www.toptenrealestatedeals.com/homes/featured/2010/top-ten-most-luxurious-golf-homes-for-sale/
TopTenRealEstateDeals.com also features the weekly Top 10 homes for sale in the U.S., Top 10 dollar and percent discounts, Top 10 upcoming home auctions, and the Top 10 regional bargains in over 25 U.S. cities.
Coming soon: 2010's Top 10 Coolest Beach Homes
Top 10 lists are free to media outlets for publication.
Contact:
Jason Wakefield
Marketing Director
TopTenRealEstateDeals.com
press(at)toptenrealestatedeals(dot)com
###