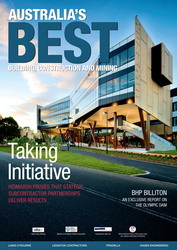 There is no doubt in my mind Asia's Best live up to its name
(PRWEB) April 8, 2010
China is constantly growing and expanding, and will be the world's largest economy in about 10 to 15 years. China is so intertwined within the global marketplace that, China like it or not, will be proactively involved in one's supply chain in the near future. With this in mind, Bean Media Group began to explore Asia's market place and were intrigued by what they found.
After the extraordinary success of the award-winning series, Australia's Best, it only made sense to do one thing and that was to introduce a new industry publication, entitled Asia's Best. Following in the footsteps of the number one, high quality, business publication in Australia, Asia's Best will provide valuable exposure and insight into successful purchasing strategies, from top companies throughout China, Hong Kong, Singapore, Macau, Tibet, Indonesia, Malaysia, and Taiwan.
Many companies who have been featured in the award-winning series Australia's Best, including Mc Donalds, Coca Cola Amatil, Ford Motor Company, Toyota, Yokohama, LG, Myer and Multiplex, have said the exposure that the publication has provided them with is astounding. Not only are these editorials featured in the hard-copy copy publication, but as well as online distribution channels including Google and Yahoo News, as well as many international business websites, including the International Business Times.
Like Australia's Best, the magazine will cover a wide variety of industries including Manufacturing, Food and Drink, Retail and Building, Construction and Mining and will be sent to two or three contacts per company, namely Managing Director, CEO and head of Purchasing/Procurement, who are the key decision makers in each industry.
Business is absolutely booming in China, especially for foreign enterprises that are coming into the country in search low cost labour, particularly in the assembly and manufacturing industry. On top of this there is fast pace movement with construction in infrastructure, commercial and housing, with 1.3 billion citizens living in China today. With transport costs considerably higher due to the lack of railway and river transport in China, an efficient supply chain is crucial to the success of one's company. A good supply chain strategy is a core component to a company's financial success. This approach involves forward thinking and often creative solutions, to capture more value-add or control of the supply chain. Asia's Best endeavors to explore these strategies as well as customer/supplier relationships with top companies throughout Asia; 'the workshop of the world'.
Chris Dutton, Managing Director at Bean Media states "We were blown away by the success of Australia's Best, we had hoped for big things, but we did not expect the standing ovation we received. Achieving so much in such a short amount of time with Australia's Best, there is no doubt in my mind Asia's Best will follow in its footsteps and live up to its name ".
###