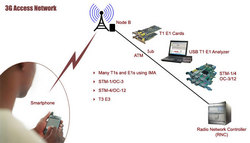 ATM can use any form of transmission, but its overhead is quite a burden. If the access network is not carefully designed, ATM bandwidth requirements will significantly affect the bottom line of any service provider. Tools for traffic and protocol analysis are essential
Gaithersburg, MD, USA (Vocus) April 8, 2010
GL Communications Inc., announced today the release of its latest Analysis Tools for 3G Mobile Broadband Networks. Addressing the press conference, Mr. Jagdish Vadalia, Senior Manager at GL said, "Mobile network traffic is expected to explode in the coming year as "smartphones" and 3G pervade the mobile user community. In a typical 3G access network, a "smartphone" user has high speed wireless access to the nearest base station (or Node B, in 3G UMTS terminology). Then the transport of voice, video, and data is thru ATM (Asynchronous Transfer Mode). ATM was selected because it provides quality of service necessary for voice but can also carry data equally well".
He added, "ATM can use any form of transmission, but its overhead is quite a burden. If the access network is not carefully designed, ATM bandwidth requirements will significantly affect the bottom line of any service provider. Tools for traffic and protocol analysis are essential".
Mr. Vadalia further added, "As shown in the picture, when the underlying transmission is TDM, many T1s or E1s are used to carry ATM cells in a technique called Inverse Multiplexing over ATM, or IMA. If the underlying transmission is T3 E3 or SONET SDH, then ATM can be carried directly in an unchannelized mode, which is more efficient. It may be necessary to switch ATM cells from lower speed E1s (possibly in IMA mode) to an unchannelized STM1 or STM4 for traffic concentration and better efficiency. In any case, it is apparent that testing and analysis of ATM traffic is useful on many interfaces including T1, E1, T3, E3, OC3, OC12, STM1, and STM4. Proper tools will assist in the design of the access network and appropriate backhaul architectures".
GL's various test capability to test and analyze ATM over different transmission. These include:
•the ability to capture and playback at up to OC12/STM4 rates with complete bit integrity
•raw transmission and reception of test cell traffic at determined bandwidth
•ATM BERT
•ATM Protocol Analysis
•UMTS Protocol Analysis
•CDMA 2000 Protocol Analysis
•ATM Protocol Analysis over T1 E1 with IMA
•ATM Protocol Analysis over T3
•ATM Protocol Analysis over STM1, STM4, OC3, and OC12
•ATM Tx/Rx Raw Cells
•ATM BERT for OC3, OC12, STM1, and STM4
•ATM Record Playback for T1, E1, T3, OC3, OC12, STM1, and STM4
•UMTS Protocol Analysis
•CDMA 2000 Protocol Analyzer
About GL Communications Inc.
Founded in 1986, GL Communications Inc. is a leading supplier of test, monitoring, and analysis equipment for TDM, Wireless, IP and VoIP networks. Unlike conventional test equipment, GL's test platforms provide visualization, capture, storage, and convenient features like portability, remotability, and scripting.
GL's TDM Analysis & Emulation line of products includes T1, E1, T3, E3, OC-3, STM-1, analog four-wire, and analog two-wire interface cards, external portable pods, and complete system solutions. Capabilities include voiceband traffic analysis and emulation across all traffic types (voice, digits, tones, fax, modem), all protocols (ISDN, SS7, GR-303, Frame Relay, HDLC, V5.X, ATM, GSM, GPRS, etc.), and with capacities up to thousands of channels.
GL's VoIP and IP products generate / analyze thousands of calls / traffic simultaneously with traffic types such as frames, packets, voice files, digits, video, tones, noise, and fax using G.711, G.729, AMR, EVRC, GSM and a range of other codecs. Additional features include visual analysis, real-time listening, and recording. The product line also includes Ethernet / IP Testing capability that simulates and checks frame transport and throughput parameters of Ethernet and IP networks, including delay, errors and other impairments.
GL's Voice Quality Testing (VQT) product line complements all of GL's products. Using ITU-standard algorithms (PAMS, PSQM, and PESQ), GL's VQT provides a widely excepted solution across the telecom industry. Voice Quality Testing across multiple networks (T1, E1, T3, E3, OC-3, VoIP, Wireless, and Landline) are all available.
GL's Wireless Products perform protocol analysis and voice quality assessment on GSM, CDMA and UMTS networks. Connections can be made to any wireless phone with automated call control, GPS mapping and real-time signal measurements.
GL's Echo Canceller testing solutions provide the broadest range of simulation and analysis, including compliance testing per G.168 and G.160 across TDM, IP, VoIP and Wireless networks. GL's wireless VQT solutions help assessing impairments to voice quality such as poor mobile phone quality, voice compression and decompression algorithms, delay, loss and gain in speech levels, noise, acoustic and landline echo, and other distortions are easily assessed and accurately measured.
GL's Handheld data testers can test a wide variety of communications facilities and equipment including T1, fractional T1, E1, fractional E1, T3 and E3 modems, multiplexers, CSU, DSUs, T1 CSUs, DTUs, NTUs and TIUs and more. The testers provide convenience, economy, and portability for almost any interface, including RS232, RS-422, RS-530, X.21, T1, E1, T3, E3, and many others.
GL's Network Surveillance and Monitoring products include Probes for TDM, IP, VoIP, ATM, and Wireless networks. An open standards based approach provides a scalable, feature rich, real-time access to network intelligence. Centralized or distributed access, efficient transport and database loading allow compatibility with 3rd party and standards based monitoring systems.
###