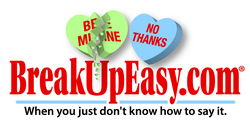 "When you just don't know how to say it."
Lansing, MI (PRWEB) April 15, 2010
Now there's a high-tech solution to one of the oldest problems in the world: How to make the awkward and painful transition when a struggling relationship turns into a new beginning. Starting today, BreakUpEasy.com offers a free service to terminate a relationship by email, text or Facebook, and offers an array of resources to accelerate the process of finding someone more suitable.
"If you have a cheating boyfriend or cheating girlfriend, or are unsure of your next steps in your relationship, a stop at BreakUpEasy.com can help you make a decision and help you make it happen," said R.E. Woods of BreakUpEasy.com. "We've made it as painless as possible to pass on the news, but we're also here as you start looking to rebuild your life."
BreakUpEasy.com offers:
A free service to end a relationship by email, text or Facebook. Fill out the information and BreakUpEasy.com does the rest.
State Your Case, where others can comment and vote on whether to end or continue your current relationship.
The Rebound forum, where customers can talk over their breakups, vent, find Rules for Dating (for men and women), and review other relationship sites as they consider options for moving on.
Ask a Heartbreaker, where the ladies of BreakUpEasy.com will take your questions and give you honest answers. Each month, the site will feature a new Heartbreaker, who will talk about her worst breakup and provide fresh insight into customers' issues.
"BreakUpEasy.com is a quick, free, innovative method for dealing with one of life's toughest moments," said Woods. "Our site offers a digital solution for a nation that increasingly goes online when they need an answer."
About BreakUpEasy.com
BreakUpEasy.com is the premier website specializing in free Online Relationship Resolution. It is the fastest and easiest way to move away from a bad situation to a more promising one.
###