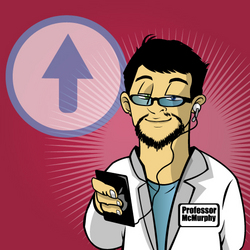 Condition your mind for success and improve your life
San Francisco, CA (PRWEB) April 8, 2010
Professor McMurphy, a neuropsychologist and expert in subliminal and binaural visualization techniques, today announced that his iPhone and iPod touch app sales have surpassed the 10,000 mark.
"The subliminal method is an effective tool that people can use to unlock the power of their subconscious mind and finally reach their goals," says Professor McMurphy. To emphasize this fact, Professor McMurphy makes reference to a research study conducted in 2007 by UCL in which it was demonstrated that the brain responds to images that reach the retina without being seen by the conscious mind.
The apps were created in response to a growing need that he could no longer fulfill through his one-on-one consultations. "More and more people are interested in bettering themselves in one way or another. The subliminal method is a powerful way to do it, and the iPhone and iPod touch are ideal platforms for it," he explained.
Each of the 50 apps created by Professor McMurphy allows iPhone and iPod touch users to listen to music and binaural beats while watching a short 13-minute video filled with positive subliminal messages designed to empower the subconscious and gradually rid the mind of limiting beliefs, behavioral problems or self-imposed convictions that prevent people from achieving their dreams. Each app created by Professor McMurphy targets a specific area of people's lives such as love, happiness, creativity, sports performance, wealth, willpower, health, careers, phobias, self-esteem, sexual stamina, grief, productivity and many more.
Professor McMurphy's apps are unique in that they can be personalized by users through the addition of images and specific details that increase the power and effectiveness of the subliminal messages.
Professor McMurphy's 50 apps were released over the course of three months and sales have steadily increased following positive feedback from users:
"I love the McMurphy apps! From relaxation and less stress to success in breaking poor habits, I've had improvements in my life using these apps."
"Even though I have only used the app for a short time, I find myself to be more relaxed, focused, and seem to have more motivation."
"This really helps me everyday of my life, my business is getting better and better, thank you Professor!"
Professor McMurphy's apps can be purchased via the App Store http://itunes.apple.com/us/artist/zenessa/id343115431
To learn more about Professor McMurphy's subliminal and binaural visualization apps, visit http://www.professormcmurphy.com
About Professor McMurphy
Professor McMurphy is a reputable Canadian neuropsychologist who has been captivated by technology since his childhood. Throughout his life and career, he has traveled around the world. He has taught countless people how to better understand themselves by helping them improve their health, get rich, be happy and find love.
By teaching his clients how to let go of their phobias or limiting beliefs, these people learned how to achieve success in every aspect of their life.
The idea for his binaural and subliminal visualization techniques came to him a few years ago as he was struggling to find more time to help those around him. He wanted to create a solution "to go", so that he could help as many people as possible without being limited by the fact that there was only one of him! Being a techy who likes to travel, he decided an app designed for the iPhone and iPod touch was the perfect solution.
http://www.professormcmurphy.com
###