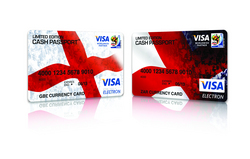 "Through Visa, we are absolutely delighted to offer England fans an exclusive, Limited Edition Cash Passport, meaning they can not only get behind their team, but have the added benefits of safe, secure spending while in South Africa."
(PRWeb UK) April 8, 2010
To celebrate the 2010 FIFA World Cup™ with Visa, Limited Edition Travelex Cash Passports will be available in South African Rand and British Pounds, 2 of the 7 prepaid Visa currency cards they offer.
Football fans following England on the road to glory will be able to prove their patriotism by adding an exclusive Limited Edition FIFA World Cup™ themed Travelex Visa Cash Passport to their supporters' kit this summer.
The custom-designed Visa cards, featuring the St George's Cross flying over a sea of fans, as well as an official Visa 2010 FIFA World Cup™ composite logo, looks set to score with England supporters.
For football fans travelling to South Africa this summer, the South African Rand Visa Cash Passport is the perfect addition to any starting line up.
As the only major prepaid currency card provider to offer a South African Rand Visa card, Travelex advises fans that it's the winning solution to tackle the currency restriction in place.
Visitors are only permitted to carry up to R5,000 cash in or out of South Africa, which equates to approximately £467 . With the Visa Cash Passport, travellers can preload up to R85,000, approximately £7,900, and then reload online, commission free or over the phone or in branch.
Visa Cash Passport users not only lock in their exchange rate upfront, but also benefit from free ATM withdrawals and no charges on purchase transactions.
Travelling to South Africa with a Visa Cash Passport also means fans can watch the ball not their wallet, as it's the safest and most secure way to carry travel money. The Visa card is not connected to bank accounts, which gives peace of mind to those concerned about debit or credit card fraud and identity theft. There is also the benefit of a free 24/7 global assistance service, which means you get a free replacement Visa card in the case of theft or loss, or emergency cash within 24 hours.
Travelex Director Ana Ansell said, "Through Visa, we are absolutely delighted to offer England fans an exclusive, Limited Edition Cash Passport, meaning they can not only get behind their team, but have the added benefits of safe, secure spending while in South Africa."
In addition to the South African Rand Visa Cash Passport, we predict the Sterling Visa card will prove popular with fans wanting a souvenir, but unable to make it to the tournament.
The 2010 FIFA World Cup™ themed Visa Cash Passports will be available from April 19, for a limited time only, while stocks last. Fans can buy them online or at any Travelex store in England. For more information, visit randsforfans.com.
Visa is a Worldwide FIFA Partner
1. Based on an exchange rate of 10.70001 on 08/03/10
2. Travelex does not charge overseas ATM fees, however, some ATM operators may charge a withdrawal fee. FairFX ATM charge:€1.50 / $2 and Post Office Travel Money Card ATM charge: £2 / €2.50 / $3 (correct at the time of publishing).
Notes to editors:
For more information, please contact:
Lucy Hill at Talk PR
Lucy.hill(at)talkpr(dot)com/ 020 544 3834
ABOUT TRAVELEX:
Travelex is the world's largest foreign exchange specialist with almost 800 retail branches in more than 26 countries, at key airport, seaport, rail and tourist locations. Over 40% of travellers - 1.7 billion passengers a year - pass through airports where Travelex operates including the major gateways at Amsterdam, Beijing, Frankfurt, Hong Kong, London, Mumbai, New York, Rome, Paris, Sydney & Tokyo. Every hour, Travelex provides foreign currency to more than 2,000 customers.
Travelex Online & the Travelex Price Promise:
Travelex.co.uk, guarantees the best price, commission-free foreign currency in the UK. Every day Travelex.co.uk monitors the exchange rates of the leading Banks, High Street foreign currency providers (Travel Agencies, The Post Office, M&S) and a basket of other online providers to ensure we offer customers the best deal. If any provider should happen to beat us on any of our 60 currencies, we refund the difference.
###