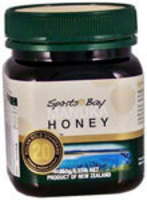 "Peter Molan created this $100 million a year industry and now consumers will be guaranteed quality thanks to this Molan Gold Standard." University of Waikato Vice-Chancellor Professor Roy Crawford
Hillsborough, NC (PRWEB) April 7, 2010
Koru Naturals has received its first batch of Spirits Bay Manuka Honey tested for activity using the new assay and standards developed by Dr. Peter Molan. Molan Gold Standard is a registered trademark of the University of Waikato, home of the Honey Research Unit, a center of excellence for the study of the health properties of manuka honey.
Since the pioneering work conducted by Dr. Molan's group in the 90's, manuka honey has emerged as a natural health product used worldwide for digestive problems, as wound healing agent, as treatment for eczema, acne and Methicillin-resistant Staphylococcus aureus (MRSA), and as basic ingredient in skin care products, wound dressings and health foods.
The activity of manuka honey is measured using variations of the assay originally described by Dr. Molan in 1991. In addition to the proper use of this assay, the production, packing and storage of manuka honey must comply with rules designed to preserve the integrity of the product. Certified manuka honeys are packaged in New Zealand, carry lot numbers and expiration dates, and apiaries offer access to the activity certificates provided by the testing laboratories. The New Zealand Active Manuka Honey Association (AMHA) holds the Unique Manuka Factor (UMF) trademark, currently the most established set of standards. Koru Naturals carries a broad selection of UMF 15+ and 20+ manuka honeys, all produced by AMHA members.
Molan Gold Standard (MGS) now joins the traditional UMF standard in offering consumers confidence that the product is indeed 100% manuka honey of the activity grade shown on the label. MGS offers an improvement over UMF by dictating purity standards for the reference reagents used in the assay and determining the number of independent assays that have to be conducted to obtain statistically significant activity numbers. To use the new standard, apiaries must agree to all conditions and pay royalties to the University of Waikato. This royalty system is expected to encourage the participation of small producers that currently cannot afford the high cost of AMHA membership. Also, since royalties are collected by the university that is the home of the Honey Research Unit, funds will be directly applied to further research on the benefits of manuka honey.
Please visit the Koru Naturals online store to view our collection of certified manuka honeys, Australian jellybush honey, and organic honeys from New Zealand.
###