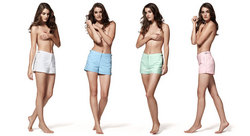 (PRWEB) April 7, 2010
The OB Women's shorts boast the same quintessential styling that has bought the men's range to the attention of those in the know, and each short is available in a number of colours and in sizes 6 through to 14.
Since launching just under three years ago, Orlebar Brown have become the label of choice for the most stylish boutiques and resorts, and have been covered in trendsetting men's magazines and national press.
Recent limited-edition collaborations with such as Monocle & Bill Amberg quickly became collector's editions.
The recent launch of the OB Sport range caused such a splash that many existing customers came back and stocked up on another pair of the company's uniquely tailored shorts.
As with the OB Men's range of swim shorts, the new OB Women line is tailored in England from French fabric. The fit of each short is designed to give the wearer the same feeling of style and confidence that the men's line has become synonymous with.
The women's shorts are available to order directly from the official Orlebar Brown website, and exclusively at Harrods. More information is available from http://www.orlebarbrown.com
###