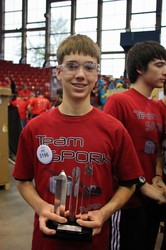 Out of 1,808 teams competing in this year's international FRC contest, only 40 earned a Regional Best Website Award. Team SPORK is the only rookie team of these 40.
Davidson, NC (PRWEB) April 8, 2010
As a telecommunications company, technology advocate, and local business, Utilipath understands the need to inspire, educate, and train the minds of tomorrow's workforce in the core skill sets of science, mathematics, and engineering. In December 2009, a small but dedicated group of Pine Lake Preparatory high school students set out to do something that should resonate with any seasoned industry professional: to master a problem too large, in too little time, with too few resources.
The "problem" is the FIRST Robotics Challenge (FRC). This year's game challenges students to build a robot that can kick a soccer ball, climb hills, and suspend its own 150 pound frame from a bar. Now approaching the end of their rookie season under the direction of Davidson graduate and physics major Audrey Cundari, Team 3196 (AKA Team SPORK) has made incredible strides toward completing a functioning, driving, and even autonomous robot. Their skill, enthusiasm, and understanding of the values of FIRST have garnered the team multiple prestigious awards, including Best Website and Rookie All Star at the inaugural North Carolina regional competition.
The magnitude of Team 3196's accomplishments is truly staggering. Out of 1,808 teams competing in this year's international FRC contest, only 40 earned a Regional Best Website Award. Team SPORK is the only rookie team of these 40. Twenty-two of these 40 teams have been building their websites for ten years or longer. Team SPORK joins only two other international FRC teams in the last three years who have achieved both Rookie All Star and Best Website in their rookie year.
As Team SPORK members will readily admit, none of this success would have been possible without the support of their mentors and business partners. Local engineering firms, including Ingersoll Rand, Penske Racing, General Dynamics, Newell Rubbermaid, and Utilipath offered their assistance, both financial and educational, to the students throughout the year. Utilipath IT manager JD Mills graciously donated his afternoons and evenings to train the students in one of his fields of expertise: web development. A critical component of the final team submission, Team 3196's web site provides a wealth of information about the robot, the students, their mentors, and corporate sponsors.
From the beginning of the design process, and consistent with the values of FIRST, JD considered and addressed the long term impacts of the knowledge and skills he passed onto his students. For example, rather than opting for a what-you-see-is-what-you-get (WYSIWYG) editor such as Adobe's Dreamweaver, JD chose instead to delve much deeper into the website code itself. As a result, the students gained valuable experience working with HTML 4, CSS 2, and PHP 5, near-ubiquitous standards in the world of web design. Team 3196's implementation of PHP also allowed for a modular and collaborative approach to constructing the website – students with a knack for design worked on styling and layout, while others created, loaded, and formatted information. Utilipath is extremely pleased to have been a part of Team SPORK's award winning web design team, and will continue to offer its support in the years to come.
Utilipath's support of FRC Team 3196 extends beyond web development. On February 20th, Utilipath employees supervised the installation and operation of the structured cabling, switches, AV equipment, and wireless access points that drove the operation of the North Carolina regional scrimmage match, held at Pine Lake Preparatory's home field. Utilipath technologists will also oversee a series of post-season scrimmages that will provide a valuable resource and practice field for robotics teams statewide.
Utilipath is thrilled to be a mentor partner of Team 3196, and we wish them the best of luck at the national championship. Go SPORK!
More information available at http://teamspork.com and http://utilipath.com.
# # #