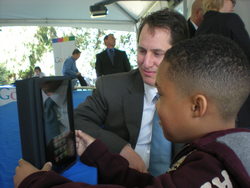 Sacramento, Calif. (PRWEB) April 7, 2010
Against the backdrop of the 2010 Education Technology Expo at the state capitol, representatives from the education, solutions and technology company Pearson opened a window for Californians to view the powerful digital and online solutions available to bridge the state's achievement gap.
"It's time to take advantage of the fact that the digital classroom of tomorrow is now a reality, and that it represents the single best way to improve learning statewide," said Pearson vice president Dan Pier. "Recognizing the state's financial challenges, one asks the question what price justifies failure for our children when the technology delivers such obvious benefits and proven effectiveness?"
Pier made his comments at today's State Capitol expo, where Pearson showcased a wide range of its classroom innovations alongside such technology giants as Apple, Google and Microsoft.
"While people used to think of us as a textbook business, we have evolved into a company that is transforming education in hundreds of ways through the use of technology," said Pier.
The leading provider of digital and online education globally, Pearson is revolutionizing schools with an array of digital and online tools that include research-based content, personalized intervention, assessment for learning, data management and professional development solutions to set every child on an individual learning path to success in school and in life.
Across grades and subject matter, Pearson's K-12 solutions allow teachers to:

Personalize learning by student to meet his or her individual needs
Offer real-time assessments of student performance
Intervene immediately to identify and address obstacles that inhibit student progress
Engage the iPod generation on its own turf with online animations, video games and interactive learning
Grade, track and report results and other important data online to give teachers more quality time working with students.
Furthermore, Pearson's innovative tools make it possible for:
Administrators to mine data to determine what is working and where improvements need to be made
Parents and students the ability to access important materials, information and tutorials online from home
Teachers to receive essential training so they can harness the power and efficiencies of technology
Students to learn virtually, reducing pressure on class size and school budgets
"We have made a quantum leap in all these areas," said Pier. "These tools are proven to work and there are federal dollars available to pay for them. It is time for California, as the birthplace of technology, to reassert its leadership in education and technology."
About Pearson in California:
Pearson (NYSE: PSO), the world's leading education publisher, has been providing education materials to California schools as far back as the 1800s. You may know us individually as Scott Foresman, Prentice Hall, Longman, SuccessMaker, NovaNet, AGS, Pearson School Systems, Pearson Assessment, Learning Teams, Achievement Solutions, and so many more - names in the world of education that are recognized and respected across the State and the globe. In fact, most teachers in California have learned their profession by studying with Pearson's Merrill or Allyn & Bacon textbooks, and many have benefited from our professional development programs. Today, nearly a thousand Pearson people are living and working in the State, providing educational materials that cover the gamut from birth through professional learning. In addition to Education, Pearson's other major businesses include The Financial Times Group and The Penguin Group. For more information, go to: PearsonSchool.com.
Contact:
Stevan Allen -- stevan(at)allenstrategic(dot)com -- (916) 448-1336 or (916) 718-2999
###