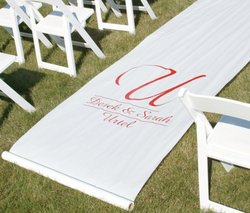 Cookie cutter weddings are long gone. Today's weddings are unique and personal. A personalized aisle runner helps distinguish a wedding right from the first moments of the ceremony.
Edinboro, PA (PRWEB) April 8, 2010
BridesVillage.com, an aisle runner supplier for 17 years, announced it is unveiling a new line of personalized aisle runners that will enable couples to customize the start of their wedding. Cathy Ward, owner of BridesVillage, said the new selections are a reflection of the latest bridal trends and are a part of her efforts to make BridesVillage a one-stop resource for brides everywhere.
"Cookie cutter weddings are long gone," Ward said of her decision to offer the new personalized aisle runners. "Today's weddings are unique and personal. A personalized aisle runner helps distinguish a wedding right from the first moments of the ceremony."
The new wedding runners are woven from tear-resistant white rayon and are available in seven distinct personalization styles. Two of the new runners allow couples to have their names and a single initial monogram printed on the fabric, while the other designs are printed with the couple's names and the date of their wedding. Couples can select from a variety of ink colors for each design to further customize the look of their wedding aisle runner.
"These aisle runners are about giving couples the freedom to define the look and feel of their wedding," Ward said. "The design and the color of your personalization can be matched to your wedding theme, and it's a memorable way to begin your ceremony."
Each personalized design is characterized by a unique backdrop, with selections ranging from simple accents to a variety of colorful floral patterns. Ward noted that all personalization is provided at no extra charge and said that more wedding aisle runners will be added to her site in the coming weeks.
"What brides love about these aisle runners is that there is such a personal and keepsake quality to them," Ward added. "Most couples simply throw out their aisle runner after the big day, but with these you have a design that you'll want to cut out and save, or even frame as a decorative memento of your wedding."
Other selections in the diverse line of aisle runners offered by BridesVillage include an assortment of non-personalized white and ivory aisle runners as well as runners in hard-to-find lengths. BridesVillage also recently published two comprehensive guides -- one with instructions on how to use wedding aisle runners and a second with tips and advice for designing a wedding processional. Both articles are now available on BridesVillage.com.
"We've been specializing in aisle runners for years," Ward said. "Our goal has always been to provide the best possible selection and to give brides all the tools they need to feel confident when they step out into their wedding."
About BridesVillage.com
BridesVillage.com was founded in 2001 by Cathy Ward and is one of the top independent online wedding accessories retailers. In addition to aisle runners BridesVillage also features extensive varieties of unity candles, wedding cake toppers, wedding stationery, attendants gifts, and wedding theme collections. Located near Erie, Pennsylvania, BridesVillage.com is committed to bringing the personalized treatment of a boutique shopping experience to the online marketplace.
# # #