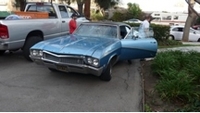 I am so excited about this opportunity. I've always had an interest in cars, but have been too afraid to pursue this vocation.
Woodland Hills, CA (PRWEB) April 9, 2010
New programs and innovative ideas are not new to Sober College, pioneers of Trapeze Therapy, Integrative Academic Focused Treatment and SoberPalooza. "Sober College is a drug rehab about finding your passion and one of my passions is classic cars," says Pfeifer.
"When Robert pulled up in that car, everyone was in disbelief. He pulled right through the bay door, into our warehouse, where music rehearsal was going on, blew the horn and announced to everyone that he was standing in Sober College's garage," reports Cody Bassett, Director of Operations. Then Robert gathered everyone around and began to talk about the promises of recovery and the new Sober College Classic Car Restoration program. "Six weeks from now," exclaimed Pfeifer, "I am putting this car up for auction at $10,000." With that he appointed Alex Fields and Cody Bassett to head up the new program.
"I am so excited about this opportunity. I've always had an interest in cars, but have been too afraid to pursue this vocation." states Kate, while working to sand the rust off the car. "First of all, there aren't too many women in auto mechanics and secondly, I don't even have my driver's license yet."
About 75% of Sober College staff are in recovery themselves. The first time staff was shown the 1968 Buick Skylark, one of the recently hired staff made some comments about the poor condition of the car. Never one to miss a teaching moment, or the opportunity to create a life lesson, Pfeifer declared, "isn't it nice that no one said that about you when you showed up at rehab."
The Sober College Classic Car Restoration program is an opportunity to teach students discipline and important aspects about personal recovery. "Just like recovery, restoration is a process requiring patience and problem-solving that gets a car from poor shape to fully functioning," explains Alex Fields, an avid auto enthusiast himself. "Whether the students are directly involved in this program or just watching from the sidelines, they will see something restored to original quality. Hopefully the message will wear off on them."
Two weeks later and the once vacant warehouse space looks like a authentic grease monkey's heaven. The Classic Car Restoration program has grown to include a 1950 Dodge Pickup Truck, a 1950 Packard and a 1965 Convertible Buick Skylark. According to drug rehab founder Robert Pfeifer, "I made a mistake in my early prediction. The car is not going to auction at $10,000. We never miss an opportunity for excellence and craftsmanship, but unfortunately, this is our first attempt."
Find the 1968 Buick Skylark up for auction online at http://www.sobercollege.com
Priced to sell at $16,000.
###