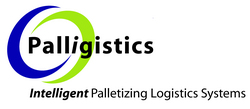 "This purchase provides the opportunity to position Palligistics at this fall's PackExpo 2010 by capitalizing AIDCO's reputation for producing leading-edge robotic palletizing technology" added Kerry Powell, General Manager, Palligistics.
Cincinnati, OH (PRWEB) April 9, 2010
With a strong capital base, Palligistics is positioned to support current and future AIDCO customers and product line growth through an increased ability to design, manufacture, and test and handle current and future integration projects, complete large customer system acceptance tests and innovative product development activities, offer greater product handling capability demonstrations and complete in-depth training activities. Palligistics will continue to manufacture and support the AIDCO brand palletizers and depalletizers at its Cincinnati headquarters.
Mr. Neil Johnson, President of PL Funding, LLC, and majority owner of Palligistics stated, "I am pleased to announce the completion of the purchase agreement of the AIDCO brand and its innovative design solutions. AIDCO's technology, along with our resources and support will, in our opinion, strengthen Palligistics' goal to be known throughout the industry as a state-of-the-art robotic end-of-line solution provider. We're thoroughly impressed with the quality of customers and the team we brought over from AIDCO and are looking forward to a long-lasting relationship."
Mr. Salh Khan, who will assume the position of President, Palligistics LLC., added, "I am extremely excited about the future of Palligistics and the team's move to a site which brings our R&D, production and office space to approximately 70,000 square feet. We look forward to working closely with our investment groups as we strengthen our manufacturing and sales processes and expand our global reach to deploy robotic end-of-line materials handling technology, such as line control, case packing, palletizing and depalletizing and line integration services throughout the world."
For more information about this announcement, please visit http://www.palligistics.com.
###