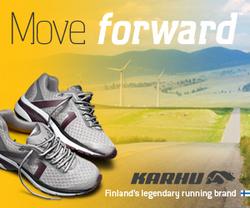 We're thrilled that independent testing proved what we know – that our product collaborates with the foot to convert your body's natural energy into forward momentum – that is what we think is natural running"
Beverly, MA (PRWEB) April 8, 2010
Despite intense marketplace competition, one running shoe brand with a huge international following proved a powerful draw for US running specialty retail. KARHU celebrates its 100th specialty partnership and a 10+ major city half-marathon sponsorship of the 13.1 Marathon® race series. Despite the economic crisis of the past year and heavy investment from established sport shoes brands, this emerging brand is realizing strong growth leading into 2010.
KARHU prioritizes product excellence and invests heavily in product research utilizing one of Europe's leading bio-mechanical testing and research institutes, the Neuromuscular Research Center of University of Jyväskylä (UoJ). Independent testing compared KARHU's patented fulcrum technology to the competition and test results prove KARHU running shoes have less vertical oscillation, is more efficient and more balanced than the established competition.
"We're thrilled that independent testing proved what we know – that our product collaborates with the foot to convert your body's natural energy into forward momentum – that is what we think is natural running." said Jay Duke, President of KARHU. "While everyone else is focused on cushioning running and barefoot running – even niche brands like Newton, KARHU is focused on vertical oscillation. KARHU product helps you to Move Forward™ and the other brands will follow soon our lead. It is already happening with Nike and Newton."
KARHU's launch success in 2009 is bolstered in 2010 with major new investments to create consumer demand. They have recently signed multiple multi-year sponsorships with major races. As the exclusive apparel and footwear sponsors of the 10+ major city 13.1 Marathon® series, CRAFT and KARHU will reach over 50,000 runners in the first sponsorship year. All participants will get first hand experience to try on a pair of KARHU footwear. KARHU also continues it's race sponsorship of the Nations Triathlon in Washington DC.
"The leading running specialty retailers realize they need a dedicated specialty brand in KARHU. With Foot Locker and Dick's Sporting Goods attacking their space, we will not compete on price. Differentiation and service are paramount and that is what we work on with our specialty partners." said Duke, "For consumers, 2009 showed they understand our product is simply different in how it works and what benefits it provides. Runners seek to move forward. Our shoes help you do this naturally, efficiently with great stability and results in a great run for all types of runners."
Continuing to Move Forward™ throughout 2010, KARHU launches a comprehensive global website with enhanced brand and product communication in May. It will support sell-through at Running specialty with an integrated marketing campaign around its focus to Move Forward™ at the editorial and retail level. Additionally, through in-store try-ons running consumers are offered the once in a lifetime opportunity trip to Helsinki, the birthplace of KARHU. And after a successful year in 2009 KARHU will once again partner with 3point5.com to train retail sales clerks on product and entering them in the Helsinki Sweepstakes.
For more information please visit http://www.karhu.com
About KARHU
Born in 1916, KARHU is Finland's legendary running brand. Meaning "bear" in Finnish, KARHU has an authentic heritage in running and a deep connection to the outdoors. KARHU follows the Finnish principles of design simplicity and running purity in providing technical running and outdoor gear for nearly 100 years. KARHU running shoes have been worn on the feet of some of the greatest Finnish runners, including Boston Marathon champion Olavi Suomalainen, and Paavo Nurmi, giving rise to the Flying Finns. Engineering innovative product that promotes a "Natural Ride and Feel"™ through the patented Fulcrum™ technology, KARHU footwear products are sold globally by specialty retailers. KARHU is owned by KARHU Holding B.V. and designs, markets and distributes KARHU branded products.
Contact
Sarah Lints
PR(at)Karhu(dot)com
617-248-0680 x 30
###