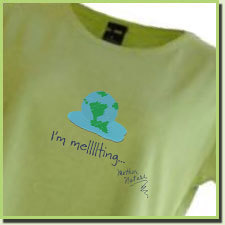 I Don't Care Who Started it I Said STOP! Mother Nature
Phoenix, Arizona (PRWEB) April 8, 2010
Using humor as the voice of Mother Nature, the "It's Your Mother Calling" product line encourages us to rethink our relationship with the environment. ItsYourMotherCalling.com just announced three new additions to its witty Mother Nature product line.
In an effort to reach out to mainstream America, green living expert Greg Peterson has joined forces with local Phoenix artist Parri Willie to develop the eco-friendly product line. Peterson says, "My number-one rule about living a greener lifestyle is 'no suffering allowed.' and this line fits right in. It helps spread the message in way that everyone can relate to – it's fun with a purpose."
Spouting classic "mom-isms," Mother Nature comes to life signing her name to messages printed on a variety of earth-friendly products. Willie spent months brainstorming with friends and family recounting dozens of "mom" quotes. "These are the same things our own mothers say to us but we've given them a green twist. Now the messages are being delivered by Mother Nature." Willie's personal favorite is, "I don't care who started it - I said STOP!"
Currently carrying organic t-shirts, stainless steel water bottles and recycled cotton tote bags, the It's Your Mother Calling line is set to expand and will include additional apparel items and everyday use items, along with baby, maternity and GreenTeen product lines.
Along the way, the team shares educational information and simple tips on living a green lifestyle, and will be donating a percentage of all proceeds to various organizations within the sustainability arena.
To view and purchase products please visit http://www.ItsYourMotherCalling.com.
A limited number of wholesale accounts are now being accepted.
Custom T's are available for your organization or conference.
Visit us on:
FaceBook - ItsYourMotherCalling.com
Both Greg Peterson and Mother Nature are available for interviews on podcasts and radio.
It's your mother calling....isn't it time for you to answer?
# # #