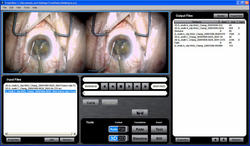 TrueVision® has a leading role in the evolution of 3D HD. We answered the needs of our users by developing the TrueEditor™ to enable our users to easily edit 3D video content
Boston, MA (PRWEB) April 9, 2010
TrueVision® 3D Surgical, the leader in 3D visualization for microsurgery, announced the release of TrueEditor™ , the visual, click and drag editor for 3D video content recorded using the TrueVision® 3D visualization system for microsurgery. TrueVision® enables surgeons to perform surgery in 3D via a heads-up 1080p display of the surgical field, freeing them from the traditional microscope oculars.
Surgeons, residents and operating room staff can view what traditionally only one or two surgeons could observe through the microscope. Ideal for training and education, the system features the ability to record and playback 3D video of surgical procedures.
TrueEditor™ enables the surgeon to quickly and easily edit their 3D video content to generate 3D HD presentations for playback at conferences, lectures, and seminars. TrueVision® 3D video allows viewers to see surgery as if they were performing the surgery themselves through the microscope. TrueVision® visualization systems are also used for streaming video, broadcasting live procedures, proctoring, and surgical education in 3D.
The 3D medium has been shown to increase test scores by 35 percent over 2D for learning human anatomy, according to recent studies by Texas Instruments, reinforcing the market for tools with the ability to work with stereoscopic video.
"With the advent of 3D as a mainstream communications medium there is a growing demand for easy-to-use editing tools for 3D video. The commercial tools available to users are far too complex and expensive to be practical." said Forrest Fleming, TrueVision CEO. "Since TrueVision® has a leading role in the evolution of 3D, we answered the needs of our users by developing the TrueEditor™ to enable our users to easily edit 3D video content."
TrueEditor™ Features

Edits 3D video from TrueVision® (raw or compressed)
Multiple file formats; mix and match images, AVI, MOV and MPEG-2 files
Convert between file formats and into 2D
Intuitive graphical user interface; click and drag video and images
Video transitions; fade, dissolve
Text overlay
Fast rendering
One-Click assemble editing
Final preview (know how long the video is before rendering the edits)
Output to PowerPoint
About TrueVision® 3D Surgical
TrueVision 3D Surgical is the leader in digital 3D visualization for microsurgery. TrueVision has developed and patented an intelligent, real-time 3D surgical visualization platform. The company is developing a suite of specific 3D surgical guidance applications for microsurgery that is expected to have positive impact on patient outcomes. (http://www.truevisionsys.com)
CONTACT:
Robert Reali
TrueVision 3D Surgical
805-963-9700
###