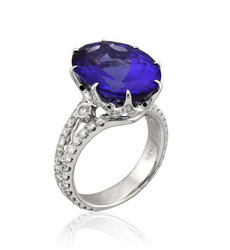 Pacifica tanzanite collection was inspired by the deep blues of the oceans, which are in dire need of protection.
San Francisco, CA (PRWEB) April 8, 2010
Just in time for the 40th anniversary of Earth Day, award-winning fine jewelry design house Yael Designs releases its Spring/Summer tanzanite collection.
Pacifica Collection includes 38 rings, earrings and pendants made with deep blue tanzanites and white diamonds set in 18k recycled white and yellow gold. The collection was inspired by the majestic beauty of the Pacific Ocean, which is less than a mile from Yael Designs headquarters.
"I was attracted by tanzanite's royal blue and violet hues," said CEO of Yael Designs Yehouda Saketkhou. "I often walk around the beaches of the Pacific Ocean and think this beautiful stone tells the story of our blue planet, dominated by oceans that are in dire need of protection."
As a sustainability-conscious company, Yael Designs recognizes that creating fine jewelry depends entirely on the bounty of the earth's natural resources. To support the preservation of these resources, Yael is donating to "A Bid to Save the Earth" Green Auction hosted this month by Christie's International, which will benefit four leading nonprofit environmental organizations: Oceana, Conservation International, Natural Resources Defense Council and the Central Park Conservancy.
"The funds we raise will help us to win more victories on behalf of the world's oceans all over the world," said Andrew F. Sharpless, CEO of Oceana.
Along with Bulgari and David Yurman, Yael will be the only other fine jewelry designer to donate to the silent auction hosted at http://www.ABidtoSavetheEarth.org from April 8 to May 6.
Yael Designs prides itself on creating unique jewelry pieces inspired by the natural world. Tanzanite, a recently discovered precious stone considered rarer than diamonds, is the centerpiece of this latest collection. Ranging from 3 to 22 carats, big tanzanite stones are set in intricate diamond and 18kt gold settings (also available in platinum) that are the trademark of Yael Designs. The price range for Pacifica Collection is $5000 to $25,000. The collection is available online at http://www.yaeldesigns.com and in select stores.
About Yael Designs:
Founded in 2001 and headquartered in San Francisco, Yael Designs is an award-winning design center for cutting edge, elegant and expressive jewelry. Yael Designs has produced 11 diverse collections, including bridal and engagement rings, black and white diamonds, recycled gold, pearl, spinning colored stones and yellow diamond collection.
As an innovative jewelry company, Yael Designs stands not only for unique designs and excellent craftsmanship, but also for sustainability. Yael uses conflict-free diamonds and recycled gold in all its fine jewelry and supports social and environmental organizations like the Junior League of San Francisco and Oceana.
Yael Designs impeccable jewelry has won numerous AGTA Spectrum Awards and JCK Jewelers Choice Awards. It has also been featured in Town & Country, Elle.com, Modern Bride, Northern California Brides, The Hollywood Reporter, Life.com, 7x7, San Francisco Examiner, Engagement 101 and numerous industry publications and blogs.
Photos and store locator can be found on http://www.yaeldesigns.com.
About "A Bid to Save the Earth"
Christie's International, the world's leading art business, is organizing "A Bid to Save the Earth" Green Auction. This first-of-its-kind charity auction will take place on April 22, 2010 to coincide with the 40th anniversary of Earth Day. Christie's will host a live Evening Sale and a companion silent auction that will last from April 8 to May 6 at http://www.ABidtoSavetheEarth.org.
Proceeds from the sale will be divided among four leading not-for-profit environmental organizations: Conservation International, Oceana, Natural Resources Defense Council and the Central Park Conservancy. All four beneficiary organizations are 4-Star rated by CharityNavigator.org, its highest rating for not-for-profit organizations. NBC Universal, as part of its ongoing environmental initiative, "Green is Universal," will serve as the official media partner for the event.
Lots for sale on silent auction will include celebrity packages such as spending a day with Hugh Jackman on the set of his movie "Reel Steel', VIP tickets to a Christina Aguilera concert, a Californication set visit with David Duchovny and falconry lessons with Bobby Kennedy.
More information can be found on http://www.ABidtoSavetheEarth.org.
###