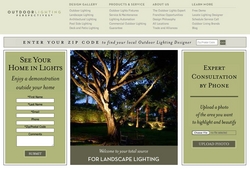 Having a photo of the area the consumer wants to illuminate makes it much easier for our expert outdoor lighting designers to instantly suggest design technique.
Richmond, VA (PRWEB) April 9, 2010
Outdoor Lighting Perspectives, North America's total source for landscape lighting, today launched a new photo upload feature on its website OutdoorLights.com. Consumers looking for guidance with their exterior lighting can upload a picture of their home, making it easier for their local outdoor lighting designers to give recommendations by phone. The feature is now available on the right side of the homepage, located online at http://www.outdoorlights.com.
"Having a photo of the area the consumer wants to illuminate makes it much easier for our expert outdoor lighting designers to instantly suggest design techniques, fixture placement, fixture selections and height and angle preferences for optimal effects," said Scott Zide, Outdoor Lighting Perspectives Chief Operating Officer. "So we asked our marketing and interactive teams to help facilitate the photo submission process by using our website," added Zide.
"Today's consumers expect brands they trust and respect to interact with them on many levels," said Larry Spada, Vice President of Branding and Marketing. "Adding this photo upload option on OutdoorLights.com speaks to that sensibility. Our lighting designers will provide prompt feedback with added substance based on the photo," Spada added.
Outdoor Lighting Perspectives (OLP) continues to lead the way in innovative outdoor lighting solutions and systems for both residences and businesses. Within the past year, the addition of a full line of Commercial Outdoor Lighting fixtures was introduced, as well as a selection of copper and brass LED landscape lighting fixtures.
In another bold move to meet new consumer demand, Outdoor Lighting Perspectives this summer will start serving the Do It Yourself (DIY) and handyman market, too, selling their premium outdoor lighting fixtures to customers who want to do the installation themselves, with OLP's expert help. In addition to recommending a design plan for the DIY customer, they will receive a comprehensive installation DVD video as well as a printed installation guide. Now with both low voltage halogen outdoor lighting fixtures, as well as LED outdoor lighting fixtures, Outdoor Lighting Perspectives is sure to have the right lighting solution at the right price.
Currently serving North America with franchise locations in key market areas throughout the United States, Canada, Outdoor Lighting Perspectives is the largest full-service outdoor lighting design and install landscape lighting company. An important part of the Outdoor Living Brands franchise network based in Richmond, Virginia, Outdoor Lighting Perspectives has redefined the outdoor lighting category through the application of innovative lighting designs and eco-friendly technologies. Outdoor Lighting Perspectives lighting designers and installers offer nighttime demonstrations in the latest concepts in outdoor lighting to enhance the beauty, safety, security and evening outdoor leisure hours for homes, outdoor living spaces, landscapes, common areas and business parks.
For more information, visit http://www.outdoorlights.com or contact Jane Walker at 804-353-6999. To speak to an outdoor lighting design consultant in your area, call toll-free 800-447-1112.
###