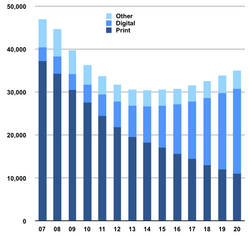 Print will go from representing more than 75% of the magazine market's value in 2008, to less than one third by 2020.
New York and London (PRWEB) April 8, 2010
mediaIDEAS (http://www.mediaideas.net), a global research and advisory firm, announced this week the release of a new report, US Digital Magazine 2009-2020 Forecasts, quantifying the magazine industry's move from print to digital.
"Over the next 10 years, the magazine industry will experience deep-rooted change," said the report's author, David Renard, "from primarily a print-oriented business to one where digital products will represent the largest share of a smaller periodical industry. We expect digital to be the primary source of revenue for magazines past the 2016-2017 time frame."
According to the report, about 10% of the total periodical industry in 2009 was based on advertising and circulation revenue directly or indirectly associated with all digital product lines. In 2014, mediaIDEAS forecasts that the digital portion of the US periodical industry will be worth approximately $8.5 billion, or about 28% of the total market. And, by 2020 it will have increased to approximately $20 billion, or about 58% of the total market.
Because of several factors including the aggressive adoption of new delivery mediums, such as Apple's iPad and next generation color e-paper e-readers, the report finds that digital will go from representing 10% in 2009 to representing 58% of the magazine industry in 2020. And, conversely, print will go from representing more than 75% of the market's value in 2008, to less than one third by 2020.
About
mediaIDEAS was created in 2007 by Bob Sacks (Bosacks), President/Publisher of The Precision Media Group, Nick Hampshire, former Senior Partner of AFAICS Research, and David Renard, President of MU Inc and former Senior Analyst at Gartner Group. Drawing upon over three-quarters of a century of publishing experience, including 22 years providing consultancy services to publishers on a wide range of critical issues, mediaIDEAS helps those involved in the information distribution industry make informed strategic decisions and plan for a more competitive future.
Contact
For further details and inquiries or to sample some of the mediaIDEAS research, please visit http://www.mediaideas.net or contact Adam Rosenberg (adam(at)mediaideas(dot)net, +1 (347) 404 5544 in the United States or +44 (0) 20 8144 1804 in Europe).
# # #