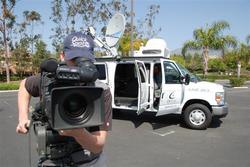 Foothill Ranch, CA (PRWEB) April 8, 2010
On Call Communications and VideoLink have combined forces to create a Live satellite news studio at the NAB 2010 show featuring the VideoLink ReadyCam Studio camera and the QuickSPOT Satellite News Gathering System. From Outdoor Media and Equipment booth OE 910, news professionals and industry experts will be able to give live, two way interviews from the NAB show floor. Feeds can be delivered to The Switch Los Angeles or All Mobile Video in Carterette, New Jersey.
To book a live shot, please call VideoLink's booking center at (617) 340-4300.
The QuickSPOT satellite news gathering system features high quality MPEG-4 standard definition video encoding with low latency for comfortable interview conversation. Mobile office features such as IFB compatible phone lines and internet access are integrated into the SNG system, making it a perfect companion for VideoLink's remotely operated ReadyCam system.
On Call will also demonstrate a high definition MPEG-4 SNG system and the ThinKom ThinSat in-motion satellite antenna. Thin-Sat offers in-motion upload speeds of up to 10 Mb/s. On Call will be transmitting and receiving live standard definition MPEG-4 video from the ThinSat antenna at NAB.
On Call makes satellite news gathering affordable with a unique on-demand bandwidth plan that allows customers to purchase time by the minute, day or hour. Customers get the most efficient use of their satellite bandwidth time by paying for exactly the time they use.
Financing specials are available to qualified NAB clients allowing them to purchase a standard definition SNG system for about the cost of renting a satellite truck once a month.
About On Call Communications
On Call Communications, headquartered in Orange County, CA is a leading provider of rapid-deployment satellite systems and satellite bandwidth for satellite news gathering, disaster recovery, commercial and governmental clients. Specializing in mobile communications systems, On Call offers an array of portable, auto-deploy antennas to fit virtually any situation. Conveniently packaged, pre-configured baseband electronics allow users to connect video, phone and data applications within minutes of deployment.
###