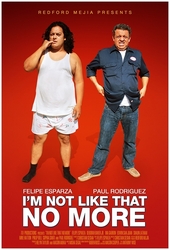 "See this movie! It's all the Latino you need to know.....Felipe Esparza is one of the funniest Latino comics bar none." Paul Rodriguez
Los Angeles, CA (PRWEB) April 9, 2010
I'm Not Like That No More movie is about Felipe Valenzuela as a typical lazy live-at-home 30 year old son. He shares his home in an extended Mexican-American family with his dad played by Paul Rodriguez. With his dysfunctional family and his stoner friends, there is no shortage of funny situations in his everyday life. Felipe just needs a little motivation to shape up & change his old ways to get the girl of his dreams.
Movie goers with any Latin and Hispanic influence will be able relate to this movie. As they're watching the movie, they will say "I know him, I know her, that's me!" In "I'm Not Like That No More," Felipe Valenzuela shares his home with his father (ex-luchador), mother, grandmother, brother, sister-in-law, sister, and little brother. His family members are just as dysfunctional as Felipe except for Claudia who is going to grad school at UCLA. Felipe's life revolves around his family and two buddies. He wants to do better in life. He wants to lose weight. He wants to face up to his fears. Unfortunately, Felipe cannot get over the obstacles life has put in his path. By accident, he meets Jill Idleberry. She is an old high school classmate. They get reacquainted in the most unlikely circumstance. From that chance reunion, Felipe decides to turn his life around – inside him, he says, "I'm Not Like That No More."
I'm Not Like That No More was an official selection at the Puerto Vallarta Film Festival, the San Diego Latino International Film Festival, and won "Audience" Favorite Award at the Coachella Valley Latino International Film Festival.
COMING APRIL 23RD TO THE FOLLOWING THEATERS:
Roxy Stadium 14 in Santa Rosa, CA
Sierra Vista Cinemas 16 in Clovis, CA
Mary Pickford Theatre in Cathedral City, CA
Plaza Stadium 14 in Oxnard,CA
Brenden Modesto 18 in Modesto,CA
Camera 12 in San Jose, CA
Regal Indio 8, Indio, CA
Roxy Cinema Grill 10 in Palm Bay, FL
Big Cinemas South Dekalb
Stadium 12 & Jazz Bar in Decatur, GA
Big Cinemas Columbia Park 12 in North Bergen, NJ
Tower Theater, Fresno, CA (April 30th)
WATCH THE TRAILER & CLIPS FROM THE MOVIE:
http://www.myspace.com/imnotlikethatnomore
Check in to the myspace.com webpage periodically to see if a theater has been added to your city.
###