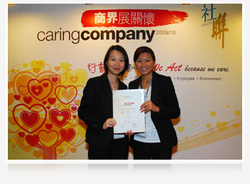 We here at QuestNet are extremely proud to be recognised as a Caring Company for three consecutive years.
Hong Kong (PRWEB) April 9, 2010
QuestNet Services (HK) Ltd, for the third time in a row, was recently recognised by the Hong Kong Council of Social Service as a Caring Company for 2009/2010. The award is given to private companies operating in Hong Kong that demonstrate good corporate citizenship as exemplified by their continued efforts in Corporate Social Responsibility (CSR).
QuestNet passed three adjudication scopes under the 2009/2010 scheme: 'Caring for the Community' pertains to partnering with local social service organisations in community-involvement projects, which focuses on volunteering, giving, mentoring and employing people from vulnerable groups. 'Caring for Employees' refers to companies recognising their staff as important assets and offering resources to improve staff's physical and mental health so they can maintain a work-life balance. 'Caring for the Environment' consists of working with local social service organisations and/or relevant government departments to help in waste reduction, energy conservation, and air quality preservation, whilst establishing mechanisms to ensure that production processes have minimal to no negative impact on the environment.
"We here at QuestNet are extremely proud to be recognised as a Caring Company for three consecutive years," said Ms Malou Caluza, Chief Network Services for QuestNet. "Many prestigious multinational companies have been so awarded, and we are pleased to be considered part of this elite group. We're delighted to have been recognised for three scopes of the award – caring for the community, for employees, and for the environment – and plan on keeping our commitment to bringing best practices into everything we do. QuestNet has always, from the very start of its inception, been dedicated to making the world better and giving back to the community. The philosophy that our company adheres to is the concept of RYTHM, an acronym for 'Raise Yourself To Help Mankind', which basically encourages people to be the change they want to see in the world, viewing things from a compassionate viewpoint, and helping those less fortunate than themselves.
"This cultural perspective is shared by all company executives and trickles down to all our staff and even to our Independent Representatives," she continued. "Indeed, one charitable event that occurred recently – the donation of a 24-seater bus to the Regional Special Boarding School for Hearing Impaired Children in Taldykorgan, in the Almaty region of Kazakhstan – came about because a QuestNet Independent Representative there came to us with the children's plight."
The Caring Company scheme was started by the Hong Kong Council of Social Service in 2002, a time when the Hong Kong community was facing numerous challenges, most notably the Asian financial crisis and the SARS outbreak. The scheme began with a simple aim to foster collaboration, but has grown to become a powerful platform engaging over 1,700 corporations and 300 NGOs, working together for the benefit of the community. Its mission is to build a cohesive society by promoting strategic partnerships among business and social service partners and inspire corporate social responsibility through caring for the community, the employees, and the environment.
Companies that have been awarded as a Caring Company are encouraged to use the Caring Company logo in their promotional activities and materials to inform and assure their customers, employees and the public that they are good corporate citizens. The spirit and value of a Caring Company are well-recognised by the public. According to a survey conducted by the Public Opinion Programme at the University of Hong Kong in August 2009 through random telephone interviews with 1,000 Hong Kong residents aged 18 or above, 62% of the respondents indicated they had heard of CSR; more than half indicated that, as customers or job hunters, they would give consideration to whether or not a company fulfils its social responsibility; and 74% said they had a more favourable opinion of companies awarded the Caring Company logo.
 
"Being recognised by the Hong Kong Council of Social Service for all our dedicated effort is a badge of honour we are proud to have," Ms Caluza said. "The executives and staff alike are excited that QuestNet has been honoured three times in a row. We plan to aim for many more consecutive years!"
ABOUT QUESTNET
 
QuestNet is an international direct selling company established in 1998. Operating a global sales force, QuestNet offers a high-quality product portfolio consisting of innovative lifestyle products, including consumable and everyday items, personal care and wellness products, luxury and collectible items, vacation packages, and telecommunications.
 
QuestNet also provides business opportunities to millions of people around the world by offering entrepreneurial aspirants the opportunity to run their own business through an e-commerce platform, to promote the company and its products. QuestNet provides its representatives with the requisite training and business tools to succeed, and champions professional business and marketing practices at both corporate and network levels. Driven by the mission of RYTHM (Raise Yourself To Help Mankind), QuestNet is an active contributor to the support and sustainability of the communities in which it operates.
 
To learn more about QuestNet, visit http://www.quest.net.
###