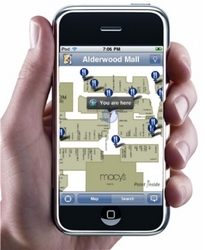 We're helping catalyze the industry to solve the `indoor positioning problem'...
Bellevue, WA (PRWEB) April 8, 2010
Point Inside™, Inc. (http://www.pointinside.com) today announced the release of version 1.5 of its free, industry-leading Indoor Smart Map™ iPhone and iPad application, which now includes SmartFix™ functionality.
SmartFix™ is a proprietary algorithm that determines if the location information provided by the mobile phone is precise enough to help users determine where they are on an indoor map, whether it be in a shopping center or other indoor environment. If the auto-location is not precise enough to be helpful, the application prompts the user to provide her location manually by selecting a nearby landmark.
This feature represents the first time auto-location has been used in conjunction with a method to self-locate on mobile indoor maps, and is a first step toward the industry's quest to provide accurate, real-time auto-location indoors, something that is not currently possible with GPS.
"With this release for the iPhone, iPod Touch and iPad, we've introduced a significant enhancement to our industry-leading indoor map platform," said Kevin Foreman, CEO of Point Inside, Inc. "We've provided the ability to determine the context of where you are relative to where you want to go, making it easier to orient yourself and determine the best way to get to your destination. We're helping catalyze the industry to solve the `indoor positioning problem', and this release sets the stage for this groundbreaking capability we plan to enable for every venue we map."
Point Inside is the most comprehensive interactive indoor map application on the market today. It includes maps of over 500 shopping centers, and directory listings for over 100,000 stores, kiosks, restrooms, elevators, ATMs, parking areas, play areas, lost & found stations, and other guest services. Shoppers can easily find the closest malls, browse or search for specific stores, services, brands or products, and pinpoint their own indoor location and destinations on interactive maps. Additionally, shoppers can view events and promotions going on at participating retailers or within the shopping center.
This new version also sports a refined user interface to accommodate quicker browsing and selection of stores, services, promotions and events, as well as improved toggling between the map and list views. It has also maintained the popular "Where Did I Park?" feature and the ability to use the application without a wireless connection after the initial download of a map.
The Point Inside App with SmartFix™ is available for free from the App Store on iPhone, iPodTouch and iPad at http://www.itunes.com/appstore. An Android version (1.0) of the app is also available via the Android Market. For screen shots or video visit http://www.pointinside.com/press and select Media Assets.
About Point Inside, Inc.
Point Inside™, Inc. has developed the most comprehensive, free, indoor map and navigation application for iPhones, iPod Touch, iPad and Android, providing the only interactive Indoor Smart Map™ directory, level by level, for over 100,000 stores and guest services in over 500 malls in the U.S. and Canada. In addition to its industry-leading indoor mall map and directory application, Point Inside makes its Indoor Smart Maps™ available to third-party software developers and companies via a licensed API. Founded in 2008 and based just outside of Seattle, Washington, Point Inside is led by a team of executives with decades of experience developing mobile and Location Based Services (LBS) applications for companies such as Amazon, AT&T, Boeing, Qualcomm, and RealNetworks. Additional details can be found at: http://www.pointinside.com; Facebook: http://www.facebook.com/PointInside; Twitter: http://www.twitter.com/PointInside.
For more information, contact:
Brian Wilson, VP, Marketing, Point Inside, Inc. at brian(at)pointinside(dot)com or via mobile at 206-962-0238.
# # #