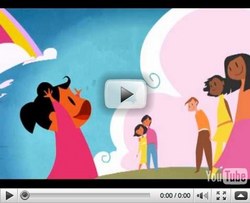 It is impossible to overstate the importance of the Census and that is why Democracia USA is involved in letting people know to fill it out, send it in, and be sure that everyone is counted. Democracia works everyday to advance the engagement of the Latino community in the democratic process – and the first, fundamental, step is to make sure everyone is counted.
Berkeley, CA (Vocus) April 9, 2010
Engage Her, a national organization that educates and activates multicultural communities for leadership roles and civic engagement, is offering an iPod Touch as a prize asking people to Text "FREECENSUS" to the phone number "53137" with their response to the question: What America needs most?" and a winner will be selected. This campaign is tied to Engage Her's 30-second, animated census video for viral distribution online and on mobile devices. The video targets multicultural communities, particularly women, youth, and the economically disadvantaged, has been translated into 11 languages, and focuses on the $1,500 to $10,000 each person can generate in federal funding for schools, job training, and health care services by completing the census questionnaire and returning it by the deadline.
The census media campaign is the first to integrate viral video, text messaging, social media, and PSAs. Using digital distribution technologies, Engage Her's video partners can collect information and provide list-building capabilities, something not possible with traditional TV, print , and radio media outreach. "We're proud to be the sponsor of Engage Her's Text Messaging campaign to engage people using text messaging to participate in the 2010 Census" said Robert Sanchez, CEO & Founder of Globaltel Media.
Engage Her CEO Mable Yee says the idea for the iPod prize came about as a result of the organization's focus on text messaging as well as other digital technologies and mobile platforms. "We're geared for the all generations, which means we try to appeal to young people who text message on their smart phones as well as their parents, who might be more likely to use emails on a desktop computer. Whatever the technology, it's our aim to extend our reach using the latest in digital trends, including social networking sites like Facebook and Twitter."
The video – which can be seen on http://www.engageher.org -- opens with an animated young girl jumping up and down raising her hand in an attempt to get attention. She says, "Can anyone hear me?" When she gets pulled back onto a box labeled Census 2010, a voice says, "Now that we can hear you. You need an education." She then receives schoolbooks. The goal is to get Engage Her's target communities to understand that by mailing back the completed the census survey by April 19, they will avoid having a government representative knocking at their door asking them census questions in person – an occurrence than not only immigrants but most people might want to avoid.
Engage Her is partnering with a diverse group of community and social advocacy groups, including DemocraciaUSA.org, Asian American Justice Center, the San Francisco Office of Civic Engagement & Immigrant Affairs, the National Association of Asian American Professionals , AT&T and others to increase its outreach to those communities that are underrepresented in the census.
Matthew McClellan, Chief of Staff of DemocraciaUSA offered "It is impossible to overstate the importance of the Census and that is why Democracia USA is involved in letting people know to fill it out, send it in, and be sure that everyone is counted. Democracia works everyday to advance the engagement of the Latino community in the democratic process – and the first, fundamental, step is to make sure everyone is counted."
Engage Her
Engage Her (http://www.engageher.org) was founded in 2008 by Mable Yee, a social entrepreneur, former CEO and founder of three high-tech companies, and a longtime activist in the Asian American and women's tech communities. In 2009 Engage Her hosted its inaugural Multicultural Women's Leadership Conference at UC Berkeley, which was attended by 350 women featuring activist icons Gloria Steinem, Dolores Huerta, Aileen Hernandez, and Yuri Kochiyama. Yee also produced the documentary, Engage Her: Getting Minority Women To Lead and Vote, and most recently received the Woman of the Year award for California Assembly District 14, represented by Assemblymember Nancy Skinner.
For more information, contact Sylvia Paull at (510) 388-8932 begin_of_the_skype_highlighting              (510) 388-8932      end_of_the_skype_highlighting
###