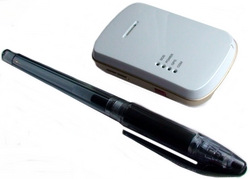 We are delighted to introduce the very first PAYG tracking device with full UK postal addresses. Combined with its SOS feature and the ability for it to receive telephone calls makes it a valuable tool to track venerable people or those at risk
(PRWeb UK) April 13, 2010
FollowUs, the UK's leading mobile phone tracking service, has launched its low-cost GPS tracking ME. The GPS ME makes tracking people much more accurate, cost-effective and user friendly. It is unique because it has every UK address loaded into its memory and gives you its precise postal location when asked within seconds.
GPS ME
The GPS ME is a lithium battery powered GPS tracking device that can be worn around the neck or carried which allows the person wearing it to be precisely located. It can also receive calls and has an SOS button.
The GPS ME is unique because within its memory chip is every known UK address,....so when you ask for a location, the GPS ME sends a text message back with it's precise address. The GPS ME is ideal for private or business use and is offered without any additional monthly payments. This means there is only the one-off payment for the GPS ME and no other charges are made by FollowUs.
As the GPS ME reports its address by SMS to your mobile phone, it enables you to track whilst on the move. The customer needs to insert a pay-as-you-go sim card into the GPS ME with credit and it is then ready to go.
Suggested applications include:

Tracking children
Tracking elderly parents or tracking family members (particularly useful for memory loss or dementia patients)
Tracking employees in high risk environments.
Martin Pinnell-Brown, Commercial Director of FollowUs, explains, "We are delighted to have introduced the very first PAYG tracking device with full UK postal addresses. That combined with its SOS feature and the ability for it to receive telephone calls makes it a valuable tool to track venerable people or those with higher levels of risk."
The GPS ME is available from FollowUs' online store, gpswholesale.co.uk, the unit costs £199 (+VAT).
Features of the service include:

Tracking accurate to 5 meters
No subscription or hidden fees - just one off purchase of the GPS ME
A search costs the price of 2 text messages on the sim card you place in the GPS ME
Free UK Support
Lithium battery powered GPS Watch lasting approx. 30 hours
How it works. 2 Simple Steps!
(1) You call the sim card that you have place in your GPS ME from your mobile, when you want to know its location.
(2) The GPS ME determines its location and then sends a text message back to your mobile phone with its precise address location.
About FollowUs:
FollowUs is the UK's leading provider of mobile phone and GPS location solutions, helping families and friends ensure that their loved ones are safe, by positioning their mobiles or GPS devices. Compatible with mobile phones on the O2, T Mobile, Orange, Vodafone, Virgin, Asda, and Tesco networks, the service can only work on handsets where the user has given their permission for the location service to be activated on the handset - random messages then being sent to the mobile to remind the user that the service is on. FollowUs is a low cost, Pay-As-You-Go service that can be easily set up on-line at FollowUs.co.uk.
Contact Information:
Kevin Brown
FollowUs
+44 (0)1582 460960
###