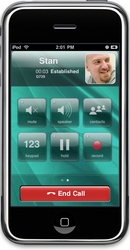 Adding support for G.729 is just one way we're responding to our customer's needs
Prague, Czech Republic (PRWEB) April 9, 2010
Acrobits just released the latest update to their popular SIP Softphone for the iPhone, Acrobits Softphone 3.2. Included in the update is the option to purchase an in app upgrade to add support for G.729 Annex A, the high quality, low bit rate codec. Acrobits Softphone users can now use this important codec for their SIP calls.
This addition is especially important since Apple and AT&T now allow VoIP over 3G. G.711 simply takes too much bandwidth to provide quality audio on a VoIP call made over the 3G or Edge network. GSM and iLBC take significantly less bandwidth, but many VoIP providers don't support them. Popular devices like Cisco or Linksys phones don't support them either. With the addition of G.729, Acrobits has provided their customers with all the tools necessary to make calls over the 3G network, with the best possible quality. They have once again proven their dedication to providing the best SIP Softphone for the iPhone.
"Adding support for G.729 is just one way we're responding to our customer's needs," says Acrobits. Acrobits still has many improvements and additional features planned for Acrobits Softphone, including a version designed specifically for the new iPad and a business version that supports multiple lines and call conferencing. They're also working on a version for the Google designed Android platform. This Czech company has big plans for VoIP on the iPhone and the VoIP world in general.
About Acrobits
Acrobits is a privately owned software development company with a focus on mobile software development. The company is based in Prague, Czech Republic and was established in November 2008. Three of its founders have been working as a team since 2003 and have developed several award-winning applications for a wide range of mobile devices. In 2008, they teamed up with a Swiss entrepreneur and pioneer of VoIP technology and together they founded Acrobits. Acrobits Softphone is their flagship product.
###