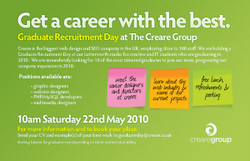 "We at Creare understand the difficulties that many graduates will face when they leave university this summer."
(PRWEB) April 9, 2010
It is the time of year when many young people are finishing their three years of hard work and looking to join the world of work. Despite sources suggesting that there are more graduate jobs on offer than in 2009, many university leavers may find that it could take months to find a role in the sector that they have trained in. However one Midlands based company, The Creare Group, have web design jobs on offer for talented graduates that wish to be part of a dynamic and fast paced industry.
The Creare Group, currently number one for 'web design' in Google and the biggest web design and SEO company within the UK, are hosting a 'Graduate Recruitment Day' in their Lutterworth studio on the 22nd May 2010 for those graduates that are interested in graphic design and web designer jobs. 60% of the employees at Creare started shortly after graduating, this is because the company see university leavers as excellent employees due to their urge to learn as well as their ability to bring fresh ideas to the table.
"We at Creare understand the difficulties that many graduates will face when they leave university this summer. We feel this opportunity will not only benefit graduates looking for a career that they have worked hard to get, but it will also help our company to continue to produce fresh and exciting web designs, and remain at the forefront of our industry," said Mike McKinlay MD
Despite the degree that they have earned, many young applicants may be concerned that they are not compatible for a job in their chosen industry due to a lack of work-place experience. Many companies expect an employee to have at least 2 years experience and a degree, making it almost impossible for graduates to get on the career ladder.
Experience is not all that matters to The Creare Group, their graduate training schemes are designed to boost confidence and provide new starters with the training that is required for a career in web design. As well as web design, SEO is a skill that many of the web designers have learnt since joining Creare and many have developed their skill sets two fold since they graduated.
The Creare Group have maintained their success as a result of their determination and the trust that they show towards employees. They offer various creative roles within their industry in addition to designers, including consultants and writers and their high standards are clear by looking at their SEO results and client testimonials.
Those graduates that are looking for web design jobs, that want to develop their skills and to contribute to an ever expanding company, can find out more about The Creare Group's Graduate Recruitment Day by contacting their team via their website or by calling 01455 883 700. The Creare Group are encouraging graduates to get in touch for a chance to be involved in an opportunity that is not to be missed.
The Creare Group is currently the largest web design and SEO company within the UK. Based in Lutterworth, Leicestershire, they currently have over 80 employees including web designers, graphic designers, video production, SEO consultants and content writers.
###