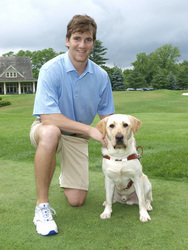 "This is my fourth year hosting Guiding Eyes for the Blind's Golf Classic and it's very special to me," says NY Giants Quarterback Eli Manning. "It's important to raise money for the school so that people who need guide dogs can have them."
Yorktown Heights, NY (PRWEB) April 10, 2010
NY Giants Quarterback Eli Manning returns in 2010 with the country's best blind golfers to host Guiding Eyes for the Blind's 33rd Annual Golf Classic on Sunday, June 13 and Monday, June 14. Last year 260 golfers teed off, raising more than $400,000 for the organization. Guiding Eyes, an internationally accredited nonprofit guide dog school headquartered in Yorktown Heights, each year holds the Classic at Whippoorwill Club in Armonk, NY and Mount Kisco Country Club in Mount Kisco, NY – two of the region's favorite and most challenging courses.
Founded by PGA legend Ken Venturi in 1977, Guiding Eyes' Golf Classic has raised over $7 million since its inception and is the organization's largest annual fundraiser. The event remains a perennial favorite with a unique combination of intrepid athleticism and a champion celebrity quarterback.
As part of the Classic, Guiding Eyes will present the Corcoran Cup, the "Masters" of blind golf, on Sunday, June 13. Named for the late Fred J. Corcoran, the prestigious Cup is a testament to Corcoran's dedication to the sport. Fourteen top U.S. Blind Golfers Association (USBGA) players from around the country will compete for the coveted award. Each blind golfer plays with a coach who aids in club selection, alignment, setup, and distances. On Monday, blind golfers will challenge their sighted counterparts to experience golf as a visually impaired person by inviting them to take a shot at hitting the ball blindfolded.
2009 Corcoran Cup Champion David Meador of Nashville, TN, and Cribari Trophy recipient Jim Baker, also of Nashville, will return to compete in 2010. Also on the roaster are George Pilz (of King of Prussia, PA), who received the Joe Spoonster Trophy in 2009 for most improved player, and Dick Pomo (of Green Valley, AZ), winner of the McFarland Trophy. Additional top ranked blind golfers invited to participate in this year's Corcoran Cup are: Ron Murner (of Wellington, OH), Ron Derry (of Baltimore, OH), Mike Mercado (of Albany, NY), Sheila Drummond (of Lehighton, PA), William McMahon (of Framingham, MA), Ted Fass (of Rockville Centre, NY), Patrick Browne, Jr. (of New Orleans, LA), John Casolo (of Waterbury, CT), and Geoff Bull (of Kalamazoo, MI).
Special guest Judy Corcoran, daughter of Fred Corcoran, will join the golfers on Sunday to share stories of her father's remarkable achievements from her book, Fred Corcoran: The Man Who Sold The World on Golf. A former PGA tournament manager, Fred Corcoran is credited with taking the sport from a minor curiosity to a major business.
Eli Manning was introduced to the Guiding Eyes Golf Classic through family friend and 18-time Corcoran Cup champion Patrick W. Browne, Jr. "This is my fourth year hosting Guiding Eyes for the Blind's Golf Classic and it's very special to me," says Manning. "It's important to raise money for the school so that people who need guide dogs can have them." Pat taught Eli and his son, Patrick III, how to golf as boys.
Sponsorships are available at the Platinum, Gold, and Silver levels. Additional support opportunities include bronze foursomes, individual play, hole sponsorship, and journal advertising. Those donating $10,000 or more are invited to a special Tee-Off Party with Eli Manning at Mulino's of Westchester in White Plains. Current sponsors for the 33rd Annual Guiding Eyes Golf Classic include:
Diamond Sponsors: Entergy & Gatorade
Presenting Sponsor: The Journal News & LoHud.com
Platinum Sponsors: The Canine Fence Company, Hudson Valley Mechanical Contractors Association, and Southeastern Farms / Kinloch Insurance Services
Gold Sponsors: A. DeVito & Son, Inc., Empire Blue Cross Blue Shield, and JP Morgan Chase
Silver Sponsors: Aero Hardware, Avant Business Services, Citibank, Stanley Cohen, Emblem, Paul Holland, Ken Nilsen, Rolex, Skanska USA Civil Inc., The Stewart Family, TBS Shipping, and Wilson & Son Jewelers
Individual play is $700 and a foursome is $2,500. These fees include breakfast, lunch, a banquet dinner with silent auction, and a truly memorable day of golf. Spectators are welcome at the Corcoran Cup; registration is required for gallery seating. To find out more about sponsorship opportunities, or for general golf information, please contact Michelle Brier, Events and Marketing Manager, at 914.243.2208 or mbrier(at)guidingeyes(dot)org.
Guiding Eyes for the Blind is located at 611 Granite Springs Road in Yorktown Heights, NY. The organization can be reached at 914.245.4024 or by visiting http://www.guidingeyes.org .
About Guiding Eyes for the Blind
Guiding Eyes for the Blind (http://www.guidingeyes.org ), an internationally accredited nonprofit guide dog school, was founded in 1954 to enrich the lives of blind and visually impaired men and women by providing them with the freedom to travel safely, thereby assuring greater independence, dignity and expanded horizons of opportunity. Since that time, Guiding Eyes has become one of the foremost guide dog schools in the world, graduating more than 7,000 guide dog teams. It provides superbly bred Guiding Eyes dogs, professional training and follow-up support services to students at no cost to them and depends on contributions to fulfill its mission. The comprehensive cost of breeding, raising, preparing, training, and supporting a Guiding Eyes team is $45,000. Guiding Eyes for the Blind's Headquarters and Training Center is located in Yorktown Heights, NY and the Canine Development Center is in Patterson, NY.
###