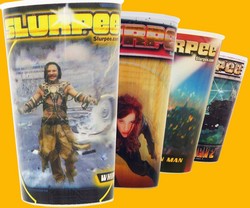 IRON MAN 2 is a great vehicle to promote our Slurpee drinks since we know 7-Eleven customers love Marvel Super Heroes and we think this sequel promises to be even bigger than the original.
Dallas (Vocus) April 9, 2010
You know Slurpee® season has officially arrived when the first Super Hero movie tie-in hits 7-Eleven® stores. This year Marvel Studios' IRON MAN 2 starring Robert Downey Jr., makes a return engagement at 7-Eleven in preparation of the theatrical release on May 7, 2010 of the film distributed by Paramount Pictures. The first IRON MAN movie took 7-Eleven stores by storm in 2008, with customers clamoring to buy collectible cups and boosting Slurpee sales by double digits.
In both movies, Downey Jr. plays Tony Stark, a billionaire whose lavish lifestyle is interrupted only by his need to keep the world safe from those who wish to destroy it. "Collect Like a Super Hero; Live Like a Billionaire" – that's Tony Stark-speak for the Slurpee promotion which includes a new Invincible Orange Slurpee flavor, a record-number of collectible Slurpee and Big Gulp cups, and an online sweepstakes to win a luxury trip to Los Angeles.
"IRON MAN 2 is a great vehicle to promote our Slurpee drinks since we know 7-Eleven customers love Marvel Super Heroes and we think this sequel promises to be even bigger than the original," 7-Eleven Marketing Manager Evan Brody said. "Tony Stark is a good guy, but he's a quirky character, and his crime-fighting methods are a little unorthodox. I think Slurpee-drinkers can relate to a character that doesn't always play by the rules."
Robert Sabouni, Senior Vice President of Business Development and Promotions for Marvel Studios, stated, "7-Eleven is a great partner for IRON MAN 2 and we are impressed by their unique approach to provide fans of the film franchise collectible items that will celebrate the sequel's release. We look forward to this partnership replicating the success 7-Eleven achieved when we released IRON MAN two years ago."
Cups & More Cups
Always looking to up the ante on its Slurpee promotions, 7-Eleven has expanded its collectible cup count to 10 for IRON MAN 2 – four lenticular Slurpee cups, four premium Super Big Gulp cups and two premium molded character mugs – and added flying character straws.
Each action-packed lenticular Slurpee cup features never- before-seen film shots of the all-star cast – Iron Man and his crime-fighting partner War Machine (Don Cheadle), as well as Black Widow (Scarlett Johansson) and villain Whiplash (Mickey Rourke). The cups feature multiple frames from the movie to enhance the action effect. Even the domed cup lids have been redesigned for the promotion, shaped like the helmets accompanying the armored suits.
Each collectible IRON MAN 2 Slurpee cup has a code printed on the inside which can be entered at http://www.slurpee.com to earn points redeemable for real and virtual prizes as well as to enter sweepstakes like the "Collect Like a Super Hero-Live Like a Billionaire."
Similar to the collectible Slurpee cups, the Super Big Gulp cups feature static images of the four IRON MAN 2 Super Heroes and super villains.
New this year are two collectible 13-inch-tall mugs that replicate the movie's two good guys – Iron Man in his characteristic red and gold armor and War Machine's heavy-duty weaponized armor.
Flying Straws
7-Eleven began including collectible action figures to straws as part of its movie promotions a few years ago. Characters have been reproduced as magnets and come with their own display stands. This year, they fly. 7-Eleven will offer three different IRON MAN 2 Slurpee spoon-straws with Iron Man, War Machine or Whiplash figurines designed to fly around the straw or detached as a toy or collectible.
Live Like a Billionaire Online Sweepstakes
Besides collecting cups and straws like a Super Hero, Slurpee fans are encouraged to head to http://www.slurpee.com to enter the "Collect Like a Super Hero; Live Like a Billionaire" sweepstakes that runs from April 1-May 31, 2010. The winner, selected in a random drawing, will receive a luxury Tony Stark-style trip for four to Los Angeles.
The trip includes first-class air fare, two premiere suites and adjoining deluxe room at a luxury hotel for three nights, $5,000 cash for a Rodeo Drive shopping spree, lunch and dinner at The Ivy and Spago, limousine service, personal assistant and private tours of Hollywood and Beverly Hills. Retail value of the trip is approximately $30,000.
The sweepstakes can be entered online by redeeming five Slurpee Nation rewards points for entry. The contest can be entered up to five times per day. No purchase is necessary to win; instructions for entering for free without using points is available at http://www.slurpee.com.
Invincible Orange Slurpee Flavor
Developed by the Dr Pepper Snapple Group, the Invincible Orange Slurpee flavor blends Sunkist Orange with vanilla cream to create a refreshing orange cream or orange float flavor.
Other Merchandise
Participating 7-Eleven stores also will carry DVDs of the original IRON MAN movie as well as animated Iron Man shorts created by Marvel Entertainment.
IRON MAN 2 stars Robert Downey Jr., Gwyneth Paltrow, Don Cheadle, Scarlett Johansson, Sam Rockwell, John Slattery, Mickey Rourke and Samuel L. Jackson. Jon Favreau directed the sequel from the screenplay by Justin Theroux. IRON MAN 2 is produced by Marvel Studios President, Kevin Feige, and executive produced by Alan Fine, Stan Lee, David Maisel, Denis L. Stewart, Louis D'Esposito, Jon Favreau and Susan Downey .
Based on Marvel's iconic Super Hero, IRON MAN 2 continues the story of the 2008 summer box office blockbuster IRON MAN, the first feature film to be produced independently by Marvel Studios. The first film in the franchise grossed over a half billion dollars worldwide at the box office.
Assisting 7-Eleven in developing the partnerships and promotions for the Iron Man 2 program is FreshWorks, 7-Eleven, Inc.'s advertising and marketing agency, which is a consortium of Omnicom companies.
About 7 Eleven, Inc.
7 Eleven, Inc. is the premier name and largest chain in the convenience retailing industry. Based in Dallas, Texas, 7-Eleven operates, franchises or licenses more than 8,100 7-Eleven® stores in North America. Globally, 7-Eleven operates, franchises or licenses close to 37,800 stores in 16 countries. During 2008, 7-Eleven stores worldwide generated total sales of more than $53.7 billion. 7-Eleven has been honored by a number of companies and organizations recently. Accolades include: #3 spot on Entrepreneur magazine's Franchise 500 list for 2009, #3 in Forbes magazine's Top 20 Franchises to Start, #3 among Top 100 Global Franchises by Franchise Direct, #3 in Store Growth by Convenience Store News, #2 in Franchise Times Top 200 Franchise Companies and #29 among Top 100 Chains in Food Service. In addition, Hispanic Magazine's named 7-Eleven in its Hispanic Corporate Top 100 Companies that provide the most opportunities to Hispanics. 7-Eleven recently was selected by three diversity publications as a company offering the best career and franchisee opportunities. 7-Eleven is franchising its stores in the U.S., and is expanding through organic growth, acquisitions and its Business Conversion Program. Find out more online at http://www.7-Eleven.com.
About Marvel Entertainment
Marvel Entertainment, LLC, a wholly-owned subsidiary of The Walt Disney Company, is one of the world's most prominent character-based entertainment companies, built on a proven library of over 5,000 characters featured in a variety of media over seventy years. Marvel utilizes its character franchises in licensing, entertainment (via Marvel Studios and Marvel Animation) and publishing (via Marvel Comics). Marvel's strategy is to leverage its franchises in a growing array of opportunities around the world, including feature films, consumer products, toys, video games, animated television, direct-to-DVD and online. For more information visit http://www.marvel.com.
###