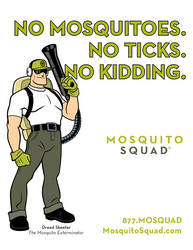 Brokers are constantly surrounded by hundreds of franchise concepts. For them to take interest in our business model and what we do says a lot.
Richmond, VA (PRWEB) April 10, 2010
Mosquito Squad® mosquito control, also known as the mosquito exterminator, has recently had three franchise brokers invest in locations of their own.
Colleen Bagley of Columbia, SC, Susan Levi of West Montgomery, MD, and Larry Johnson of Frederick, MD, all purchased Mosquito Squad mosquito control locations in the last six months while working as franchise brokers.
"I owned a direct mail-based franchise before becoming a broker," says Bagley. "It was twelve years of hunting for sales and constantly being on deadline. I sold it in July of 2007 and started as a broker a few months later. In 2009 I started to show Mosquito Squad mosquito control as an option to some of my clients, always stressing the unique business niche, residual income and the potential to build equity. It wasn't long before I realized it was a great opportunity for me and my husband."
Susan Levi was only six months into franchise sales when Mosquito Squad mosquito control sparked her interest. She adds: "I had intended to buy a franchise after two or three years in franchise sales, but I was sold on Mosquito Squad mosquito control early. It had everything I wanted in a franchise and more. Not only is it a low-investment-high-return franchise, but it's now a trend. There is a high number of Lyme disease cases in my area each year, and people are looking for ways to combat that."
"When I first heard about Mosquito Squad, I thought I would want to be a customer," says Johnson. "I moved to Maryland from California in 2008 and it was the first time in 16 years that I needed to worry about mosquitoes or had to apply a mosquito repellent. The repellents did not work. My wife and I took my young son to the park regularly and we hated seeing mosquito bites on my son (and me). My frugal wife said it would be a shame if we had to pay somebody else for the service when we could own the company and I thought I was really onto something. I showed several of my franchise brokerage clients the concept. One was in my area. I thought if he did not take it, I might. I was relieved when he decided it required skills he did not have. It not only has a 90% client renewal rate, but it's a business that has grown despite the economy. I felt it was a strong company in any economy. It provides a service that mothers and pet owners (and others) will pay for year after year. This provided an opportunity to grow my business each year."
"We think it's great that franchise brokers have become more and more interested in Mosquito Squad mosquito control," says Chris Grandpre, President and CEO of Mosquito Squad's parent company, Outdoor Living Brands. "Brokers are constantly surrounded by hundreds of franchise concepts. For them to take interest in our business model and what we do says a lot."
Mosquito Squad is North America's fastest growing outdoor living concept franchise. Known as the "mosquito exterminator," Mosquito Squad mosquito control currently has five ways to ensure affordable, dependable and effective protection against the nuisance and dangers of mosquitoes (and ticks in participating locations) and the diseases they can carry, like West Nile Virus, Encephalitis and Lyme Disease, just to name a few.
1. 21-day Barrier Spray, which kills on contact and continues for three weeks.
2. 14-day All-Natural Spray, which kills adult mosquitoes on contact and has a two-week repellent effect.
3. Intensive Tick Treatment to reduce the spread of Lyme disease.
4. Special Event Spray for mosquito-free outdoor parties, weddings, picnics and concerts.
5. Automatic Misting System providing continuous control 24 hours a day, 7 days a week, via timed bursts of protective sprays at key times when mosquitoes are at their most active.
The Mosquito Squad mosquito control technology is similar to that which has proven to be extremely effective in the dairy farm and horse industries in controlling annoying flying insects. Part of Outdoor Living Brands' franchise company based in Richmond, VA, Mosquito Squad mosquito control keeps families, residences, businesses and special events like outdoor weddings and picnics mosquito-free. Mosquito Squad mosquito control was recently rated one of the Top 50 Franchises by Franchise Business Review and received their 2010 Franchisee Satisfaction Award. Mosquito Squad mosquito control also received the World Class Franchise Designation from the Franchise Research Institute. For more information, visit http://www.MosquitoSquad.com. To find Mosquito Squad mosquito control near you, call toll-free 877 MOSQUAD, or 877-667-7823. For information on Mosquito Squad mosquito control franchise opportunities, call 800-722-4668 and ask for Franchise Recruitment. Online, visit us at http://www.mosquitosquad.com/FranchiseOpportunities.html.
###