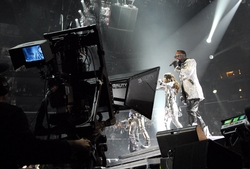 Burbank, Calif. (PRWEB) April 8, 2010
The team that brought the world the first digital 3D movie, 3D NFL game, and 3D NHL game is ready to make 3D a reality for one lucky fan. In association with the upcoming NAB Show in Las Vegas, April 10-15, 3ality Digital will sponsor a sweepstakes via Twitter and Foursquare offering fans the chance to win high-end 3D glasses, or the grand prize of a trip to an upcoming live 3D shoot with 3ality Digital.
Check out 3ality Digital at the NAB Show either at its booth, or at one of its partner booths, and enter to win.
There are three entry points and only two steps that need to be completed in order to be entered into the sweepstakes:
1. Follow @3alityDigital on Twitter
2. Tweet about 3ailty Digital at NAB or the future of 3D using the hashtag: #3alityNAB
OR
Retweet a @3alityDigital tweet using the #3alityNAB hashtag
OR
Check-in via Foursquare (Official 3ality NAB) at the 3ality Digital booth (Booth #: SL4514F in the 3D Pavilion) and tweet it out to your friends
You can also check-in and tweet onsite via Foursquare (Official 3ality NAB) from any of 3ality Digital's partner locations:

Sony (Booth #: C11001)
Panasonic (Booth #: C3712)
Ikegami (Booth #: C5108)
Grass Valley Group (Booth #: SL106)
Bexel (Booth #: C6419)
Vinten, division of the Vitec Group, (Booth #: C6025)
NAGRAVISION Kudelski Group (Booth #: SU4912)
EVS (Booth #: C9508)
Prizes include:
Daily Prize - Each day that the exhibits are open (Monday - Thursday) five (5) pairs of Microvision Optical 3D designer glasses will be given away in a drawing. Microvision Optical 3D designer glasses can be used in many 3D theatre systems, with certain current consumer electronic televisions, in addition to use as designer sunglasses.

Winner will be randomly selected from all the entries made that day at 5 p.m. PT on Monday, Tuesday and Wednesday, and 1 p.m. on Thursday
One entry per person, per day - Tweet once each day to be entered in that day's drawing
Entries made on Saturday or Sunday will be entered into Monday's drawing
Grand Prize - On the final day of the show, a grand prize winner will be selected to experience an upcoming 3ality Digital 3D shoot - live, in person. Go behind the scenes with 3ality Digital to see the inner workings of a 3D video shoot, including 3D camera rig setups, 3D production techniques, and stereography. Recently concluded events include: the first live 3D telecast of a sports event in the US, with Cablevision and the NHL; the first live 3D concert simulcast with the Black Eyed Peas and AEG Live, and first golf tournament shot in 3D: the 2010 Sony Open. Flights and accommodations to be provided by 3ality Digital.

Winner will be randomly selected from all daily entries received Saturday - Thursday on Friday, April 16 at Noon PDT.
How to participate:
Twitter

Foursquare

If you don't already have an account, sign up for free at http://www.foursquare.com or via a mobile application
Check-in at any of 3ality Digital's show locations (listed above) using the Official 3ality NAB checkpoint
Tweet your Foursquare check-in
Spread the word for your chance to win!
Winner(s) selection
Winners (Daily and Grand prize) will be notified through Direct Message on Twitter from @3alityDigital. Daily prize winners can either claim their prizes at the 3ality Digital booth by Thursday at 2 p.m., or they will be mailed following the show via standard USPS.
Full sweepstakes details and official rules available here: http://www.twitter.com/3alitydigital or http://www.facebook.com/3alitydigital.
About 3ality Digital:
3ality Digital develops enabling technologies to power live-action stereoscopic 3D (S3D) entertainment from image capture through broadcast, independent of viewing environment. 3ality Digital's camera platforms, stereo image processing systems, and S3D image scaling technologies are quickly earning a reputation as the "gold standard" for the emerging medium, and are rapidly being adopted by broadcasters, production companies, studios and consumer electronics manufacturers. 3ality Digital's systems are optimized to handle the demands of live S3D broadcast, offering such must-haves as fast setup, perfectly aligned zooms, accurate imagery right from the camera, and automation that reduces the number of required production personnel.
3ality Digital technology has powered a number of live-action firsts, including U2 3D, the first movie shot completely in digital live-action S3D; the first live S3D broadcast of an NFL game (Raiders vs. Chargers, Dec. 4th, 2008); the first live S3D sports broadcasts available to consumers, including the 2009 BCS Championship Game, BSkyB's landmark Manchester United vs. Arsenal soccer broadcast and the first network hockey telecast ever produced in S3D (New York Rangers vs. Islanders, March 24, 2010, on MSG); the first S3D commercial broadcast on television (Sobe "Lizard Lake,"); and the first episode of a scripted television series shot in digital live-action S3D (Chuck vs. The Third Dimension, aired on NBC on Feb. 2, 2009). For more information, please visit the company's website at http://www.3alitydigital.com.
Contact:
Casi Kneebone
Edelman (For 3ality Digital)
P: 323.202.1477 - M: 530-613-1042
casi.kneebone(at)edelman(dot)com
###