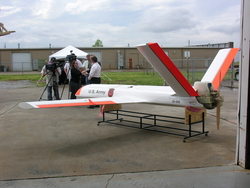 Griffon is excited about the prospect of bringing affordable UAVs to both the military and commercial applications.
Madison, Ala (Vocus) April 9, 2010
Yesterday Griffon Aerospace, US Army officials, and local political leaders conducted the rollout of the first production BroadSword Unmanned Aircraft System - Target (UAS-T) designated the MQM-171A for the U.S. Army Targets Management Office (TMO). BroadSword was developed to represent a generic tactical class unmanned aircraft system that could be employed against U.S. and allied forces in the field. BroadSword is a 500 pound class, 17 foot wing span aircraft capable of carrying a variety of payloads. The aircraft provides a reasonably priced target system to support testing of Defense weapons systems under development and will be available to support Defense training requirements.
The U.S. Army Aviation and Missile Command awarded Griffon a five-year multi-million dollar production contract in August 2009. Under this contract Griffon will manufacture the MQM-171A target systems, provide engineering services, conduct flight services, and complete depot maintenance services for the BroadSword system. An unmanned aircraft manufacturer since 2003, Griffon also manufacturers the 130 pound class Remotely Piloted Vehicle Target (RPVT) system designated as the MQM-170A Outlaw. In 2009 Griffon was competitively awarded its second five year contract for the continued manufacture and flight support of the Outlaw RPVT. Under these contracts in support of the U.S. Army, Griffon Aerospace has manufactured over 2,000 Outlaw RPVTs, technically making Griffon one of the highest volume unmanned aircraft system manufacturers in the United States. These low-cost unmanned aircraft systems provide affordable training for Army Air Defense Units worldwide, support testing of developmental weapon systems, and assist Defense system payload system developers with a low-cost unmanned aerial platform. These contracts have allowed Griffon to expand their Madison facilities and establish a permanent facility at Fort Bliss, Texas, to support customer requirements. Griffon has also been awarded the U.S. Navy's Unmanned Aerial Target contract. This target system uses a modified version of the popular Outlaw system to support Navy requirements.
Griffon Aerospace CEO Larry French stated that "We are extremely grateful that the U.S. Army is providing small businesses like Griffon such key opportunities to demonstrate our design, engineering, and production capabilities on a large scale UAS program like BroadSword. BroadSword is a testament to the vision, leadership, and entrepreneurial spirit that lives inside organizations like the U.S. Army TMO to bring our soldier's high quality affordable systems." French said, "One of our strategic goals for Griffon is to leverage our high volume manufacturing techniques into a line of affordable tactical UAVs that meet all the requirements for a full spectrum of fully autonomous UAV missions. Low-cost and high volume does not mean low quality, after 6 years and over 50,000 sorties the Outlaw operational loss rate still hovers around one percent." French said "Griffon is excited about the prospect of bringing affordable UAVs to both the military and commercial applications."
Griffon is a Madison, Alabama-based small business that designs, develops, and manufactures composite structures for space applications, unmanned vehicles, and aerial targets. Griffon has a number of flight operations teams that fly Griffon unmanned systems worldwide.
# # #