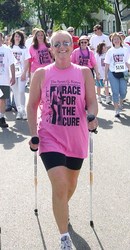 good use total body walking exercise
Madison, WI (Vocus) April 9, 2010
On December 11, 2009 Susan "Suey" Starczynski lost her 12+ year battle with breast cancer. She was first diagnosed with breast cancer in the spring of 1997, and by the time she applied for a job with Exerstrider Products Inc. of Madison, Wisconsin she had been a breast cancer "survivor" for 6 years.
When first interviewed in 2003 by Tom Rutlin, founder and CEO of Exerstrider she was asked what she did for exercise. She replied, "I don't exercise…hate to exercise". Despite that honest admission, Rutlin felt immediately that she was exactly the right person for the job. But he told her that because the job would necessitate her having first-hand knowledge and experience with his Exerstrider Nordic walking poles, he would pay her for 30 minutes of daily exercise. Within a matter of days, Suey fell in love with Rutlin's simple hybrid of fitness walking and Nordic skiing, and soon after asked Rutlin how long he intended to pay her to exercise. "I hadn't really thought about how long the arrangement would last" he replied.
"I never thought I'd say this", she said, "but I actually love this exercise" and she admitted that it would no longer be necessary for him to pay her to exercise. A once self-proclaimed hater of all forms of exercise soon became the most enthusiastic proponent of Rutlin's "good use total body walking exercise" he could ever have hoped for.
Sadly, in 2007 Suey was diagnosed with a recurrence of cancer, which had this time also spread to her bones and liver. Against all odds, and with the same glowing smile and positive attitude she brought to nearly everything she did, she refused to lose hope right to the end, when at the age of 50, the world lost the shining light that her unique spirit shed on everyone that she touched during her too-short life.
Throughout her years of working for Exerstrider Suey had often said that the main reason she loved her job so much was that almost daily she heard from people about the healing effects resulting from their newly discovered love for such a simple and enjoyable physical activity. She had also learned that the incidence of many forms of breast cancer (as well as other forms of cancer) and many other life-threatening diseases could be greatly reduced simply by regular participation in moderate physical activity. The thing that gave her the greatest satisfaction in her work was hearing from so many people for whom Exerstriding had helped them overcome physical challenges including obesity, diabetes, Parkinson's (from which her father had suffered) and many other serious diseases and medical conditions.
Near the end, Suey expressed a wish that many more might be spared the kind of suffering she had been forced to endure as a result of discovering, as she had too late, the enjoyment of Exerstriding or other forms of moderate physical activity. She said, "If only more people of all ages and abilities knew that exercise could actually be at the same time so enjoyable, and could significantly lower the risks of many forms of cancer as well as diabetes, heart disease, obesity, depression, osteoporosis and other diseases, it could make such an important impact on the lives of so many people."
According to Rutlin, "She came to realize that prevention through physical activity had the potential to be among the most powerful and desirable means of ending untold amounts of suffering associated with so many preventable diseases which have become epidemics simply because of sedentary living."
That's why Exerstrider has created the Suey Starczynski Prevention Project, the "double P" pink Prevention Project ribbon and a special new model of pink Exerstrider poles with a special "warning" label (see below) to honor her memory and her indomitable spirit, and help make that wish come true.
$5 for every pair of these special pink poles sold will be donated to programs to promote physical activity and education about the preventative health power of regular moderate physical exercise. Through the Suey Starczynski Prevention Project, Exerstrider will work to increase that potential through increasing awareness of the disease preventing power of regular moderate physical activity.
###